| | |
| --- | --- |
| Posted on April 13, 2020 at 3:30 PM | |
It's official Andrew has graduated from "Egg Boy", as he has been called by his customers, to "Egg Man". It was exciting to see him on the front page of the Waco Tribune-Herald this morning. Here is the link to the article, scroll to the top of the article to see the news:
https://www.wacotrib.com/business/egg-man-making-hay-during-coronavirus/article_79fc2bb5-eb0d-57e4-bbf4-8655219958ae.html#2 ;
A few letters of thanks have trickled in and we absolutely love them! Farming is not for the faint of heart and it is nice to know people appreciate the labor of love needed to make a healthy product. Encouraging handwritten notes always lift the spirit! 
The farm recently was recognized and won the USDA "Conservation Farmer of the Year" award for Texas District 5, out of the five districts.  Many thanks to the local Natural Resources Conservation Service (NRCS) for helping with our endeavors! 
| | |
| --- | --- |
| Posted on November 13, 2019 at 11:05 AM | |
     The weather has been setting all kinds of record lows. With a bit of drizzle and high winds thrown in chores are downright miserable. Andrew has finally decided to hire someone to help with the chores. He came to the conclusion that help was needed even though he operates on a shoestring budget.  I am amazed at the difficulty in finding a person who is willing to work hard. It makes me wonder how businesses stay in operation and make a profit. 
     With the addition of coops and more layers(hens) we bought another trailer twice as large as our first "cooler trailer".  The new trailer is just a standard trailer which over the summer Andrew converted to a second cooling trailer. He insulated the walls, had the ceiling spray foamed, layed down plywood, painted the interior, cut a hole for an air conditioner and installed a CoolBot. Really it was as easy as that! Probably the most difficult part was dealing with wiring. I told him to hire an electrician, but ever stubborn to learn on his own he found someone to talk him through it. The CoolBot tricks the air conditioning to cool the space to our required storage temperature of 45 degrees. 
The materials: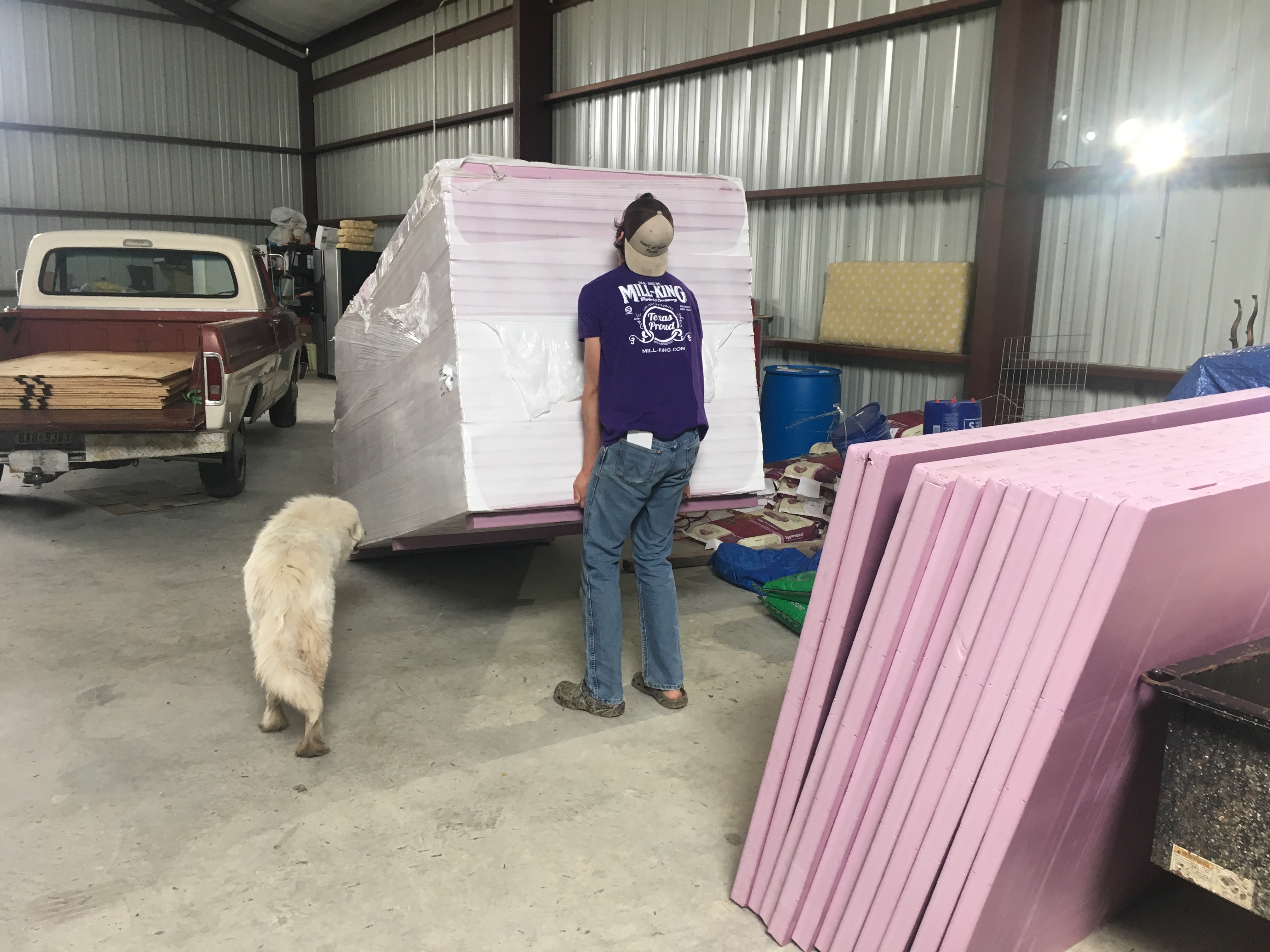 Installing insulation: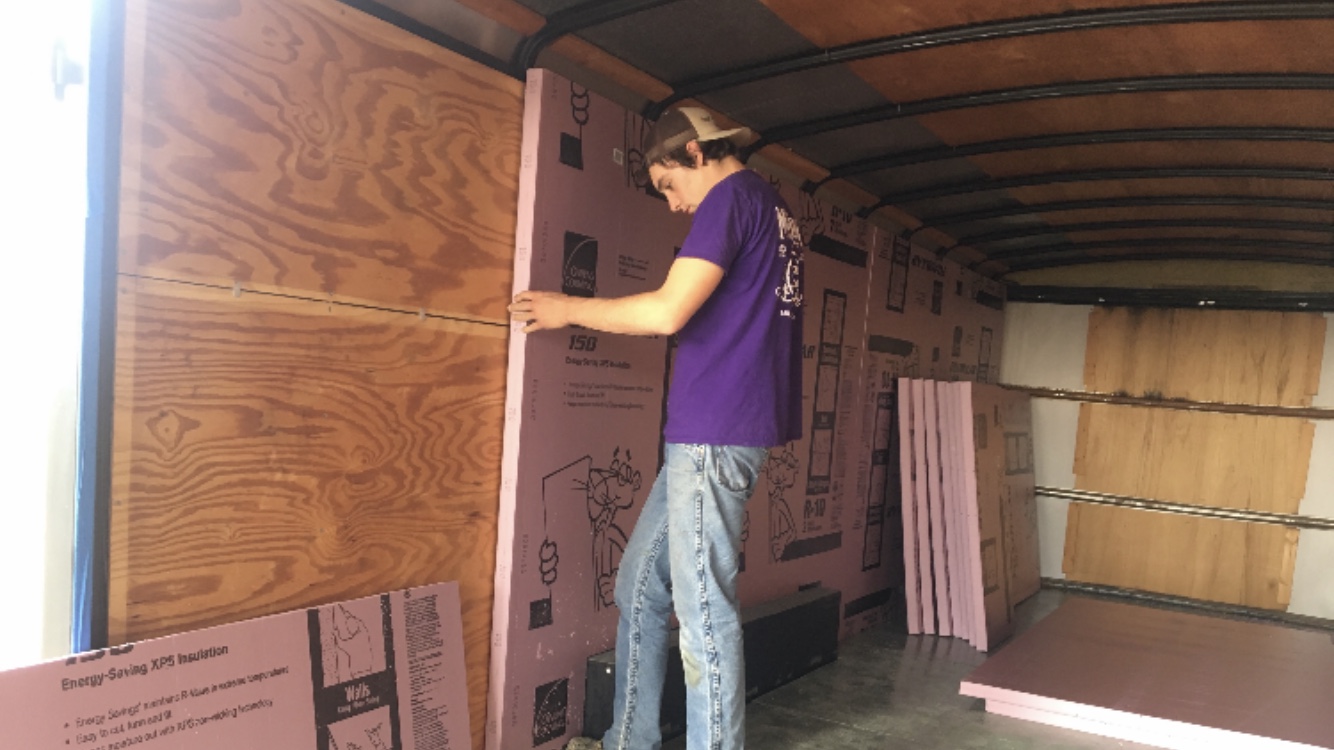 Finished!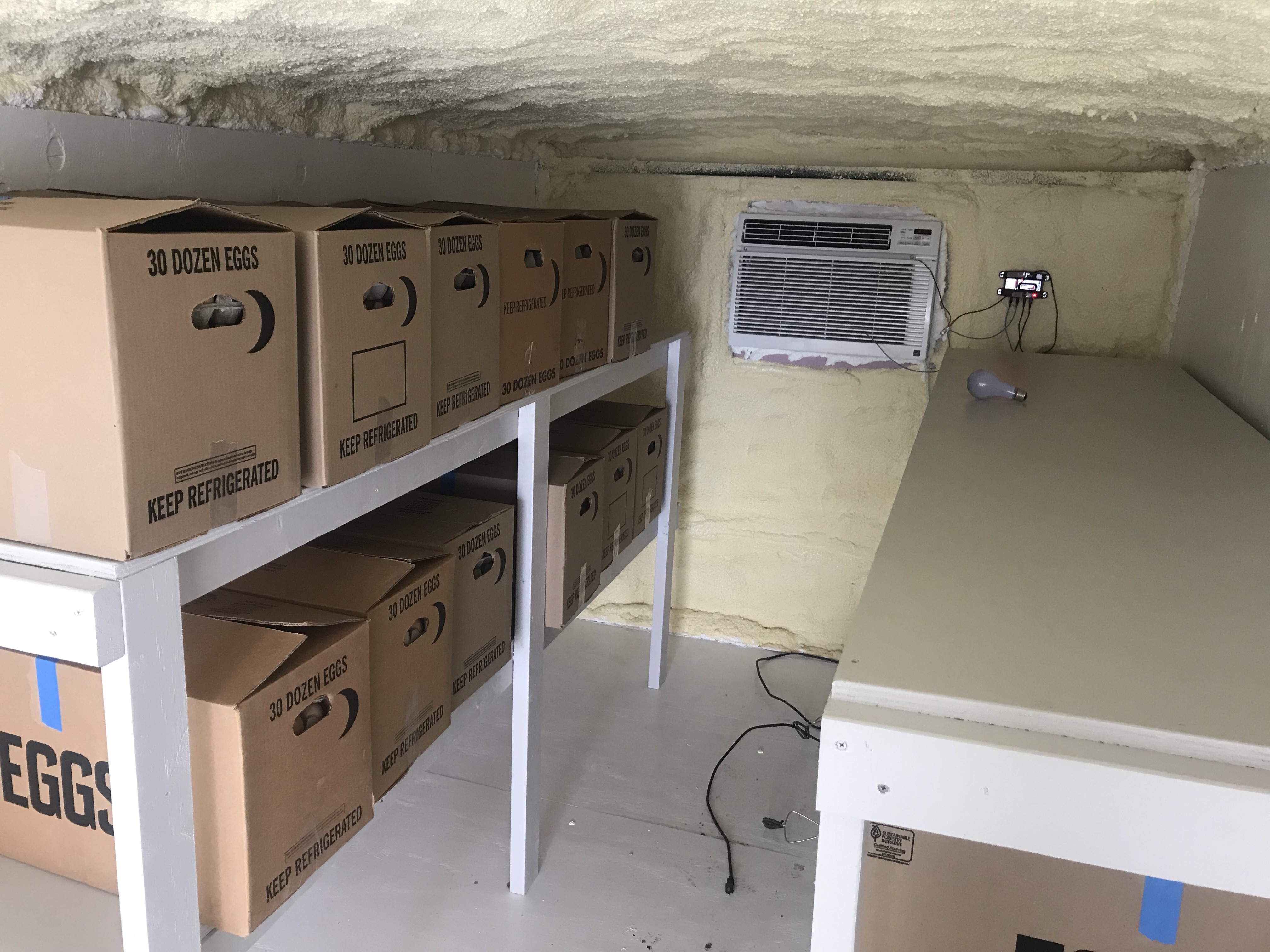 CoolBot at 45 degrees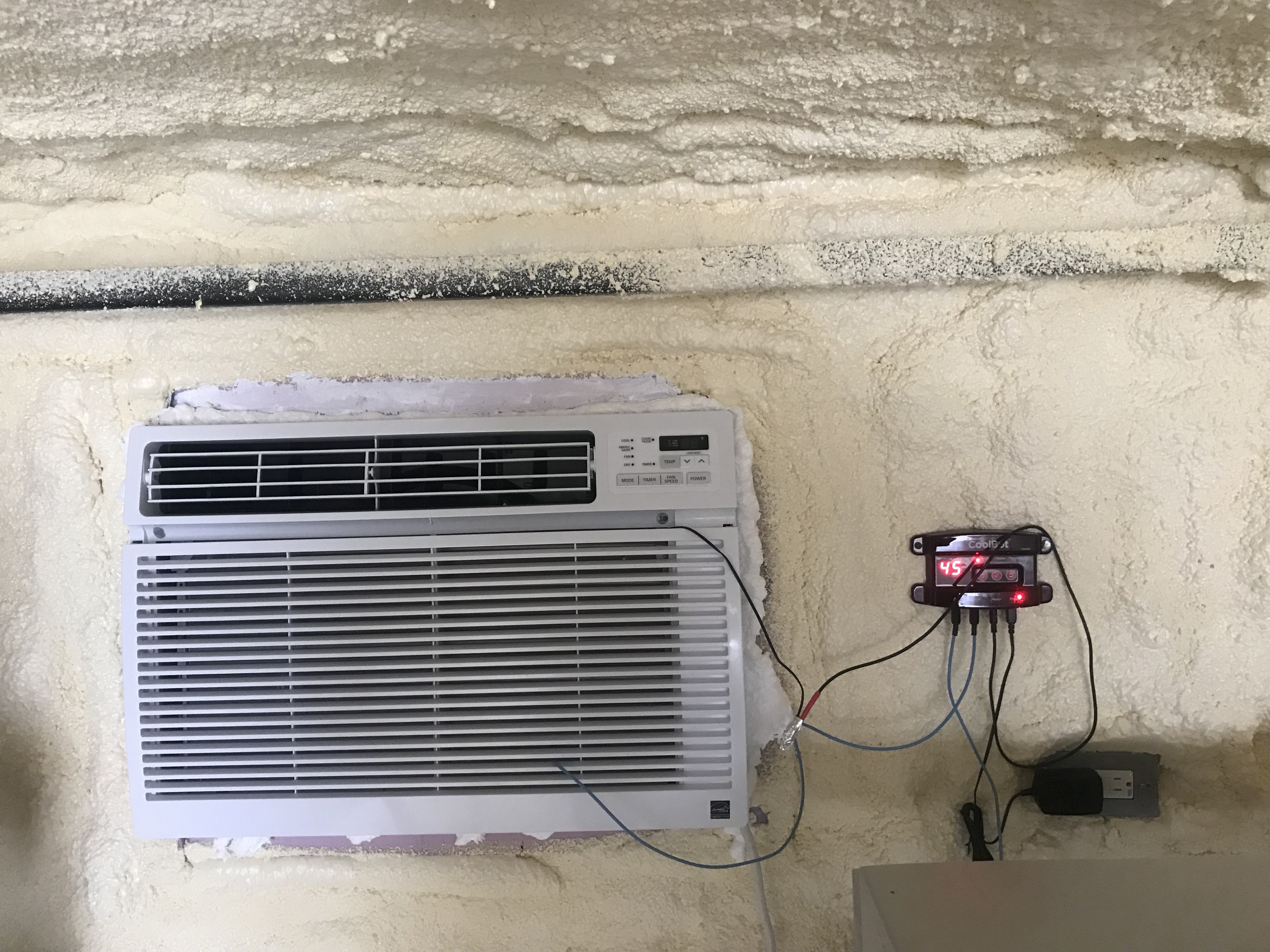 | | |
| --- | --- |
| Posted on June 2, 2019 at 11:10 PM | |
Last week I spent 3 days with my tree guy trimming and mulching the fence lines. Trees and fences don't mix. A few had fallen and pushed down the fencing in various areas. I contacted all the neighbors but one, who happened to be on a long vacation, to let them know I would be in the area on both sides cleaning up the tree line. The operator of the heavy equipment was one of the hardest working guys I had worked with in a long time and so I pushed him from area to area at a fairly brisk pace. I cut the boundary fence and got what trees we could that had fallen onto my vacationing neighbor's property and then hastily threw a nearby disgarded gate against the exposed area and loosely wrapped two wires to keep in place until I could get back and re-attach the five cut wires and we moved on to the next area. 
The next day I remembered the fence, but it was opening day for the blackberry U-Pick.  Andrew and the rest of the family had life get in the way, and I was left to watch over the field for customers. Then the next day was church, a big lunch with my parents, and a trip to the store for relief from bug bites. Over the three days I had acquired no less than 200 bug bites. It looked like chicken pox. During church it was hard to listen. I squeezed my elbows, wrists and ankles and attempted to not scratch. My dad said to try a concoction of finely ground oatmeal, vegetable glycerin, coconut oil and a bit of water.  So I lathered myself head to toe and sat my sticky self outside in my swimsuit as flies swarmed around me.  My neighbor, just home from vacation called and said, the fence had been cut, didn't know how or why and also his cows were on my side. I told him the cows could stay on our side, I really didn't care at the moment, the remedy just needed to take effect, and I would be out there in an hour to fix it and it was my fault for not getting the fence back together. He said he would fix it and not to worry. So I ran the water hose over myself, wriggled jeans over my damp and slightly sticky legs, ran to the barn for tools/wire and met him at the fence with oatmeal on my upper body and face. He was so kind and we both were drenched in sweat and he with blood from the fence. I feel really bad about it all and wish I had just stopped everything earlier and fixed the fence.  
| | |
| --- | --- |
| Posted on May 7, 2019 at 1:00 PM | |
Turnips were planted in fall 2018 for cattle as an alternative to grasses. Turnips are an inexpensive alternative, non chemical way to help mine nitrogen from deep in the soil, add organic mass, and prevent erosion. The long tap roots help break soil compaction like a plow and a good choice for a no-till operation. Turnips have excellent forage quality, the cattle eat the green tops and the turnip and benefit from having a diverse diet instead of grains or a monoculture field of grass.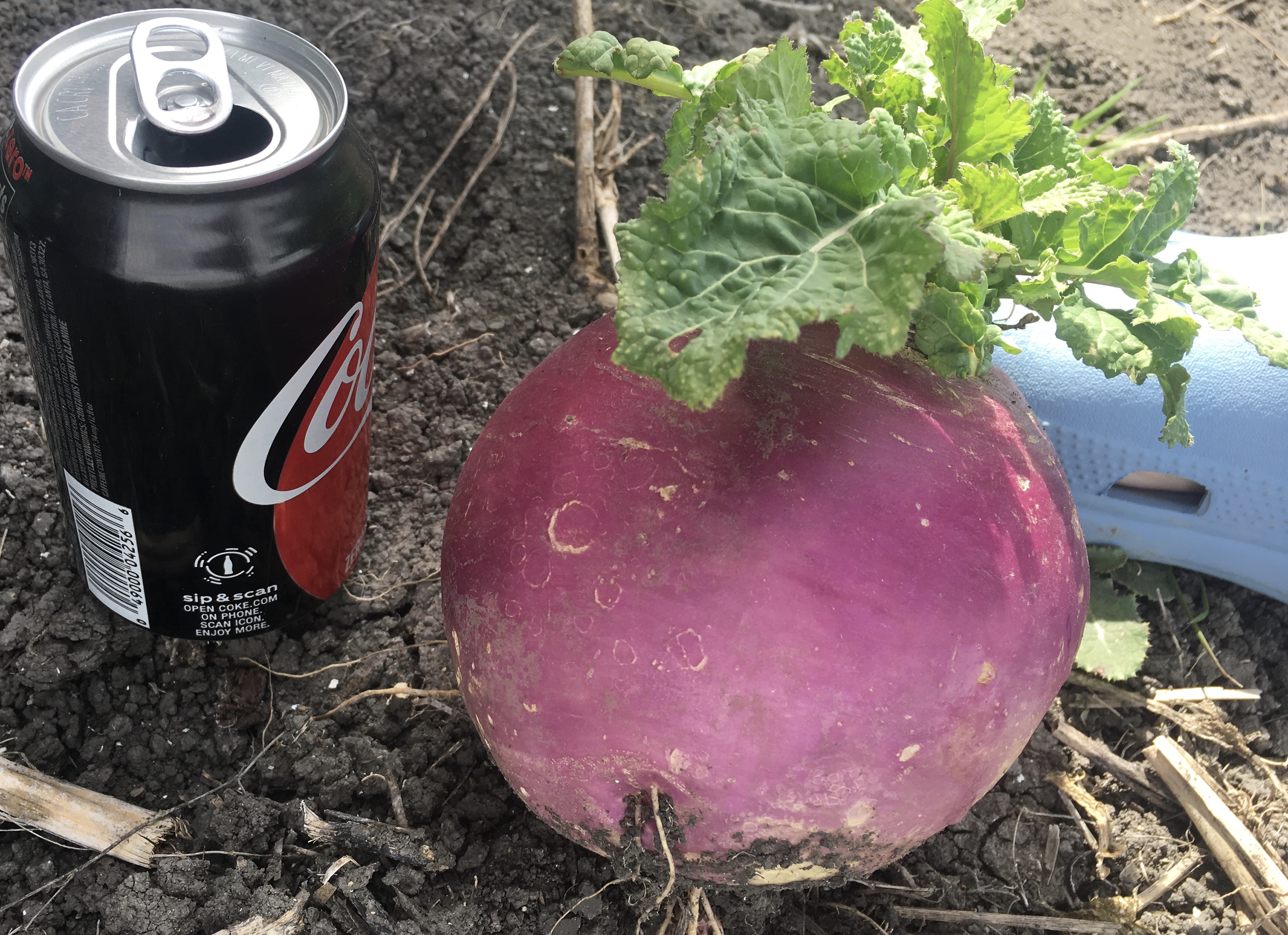 The next photos show part of the pollinator field planted last year as looking from the barn out to the main road. With help from the NRCS I was able to plant 30 acres in pollinators March 2018. It takes about 3 years to see results from a planting such as this, but with all the rains we have had this year the results have been amazing. I also hand tossed wildflower seeds gifted from a friend this fall. What is interesting is many of the flowers shown were not planted by me. The field had been a cornfield prior to planting the pollinator mix.
March 17 shows nearly bare ground.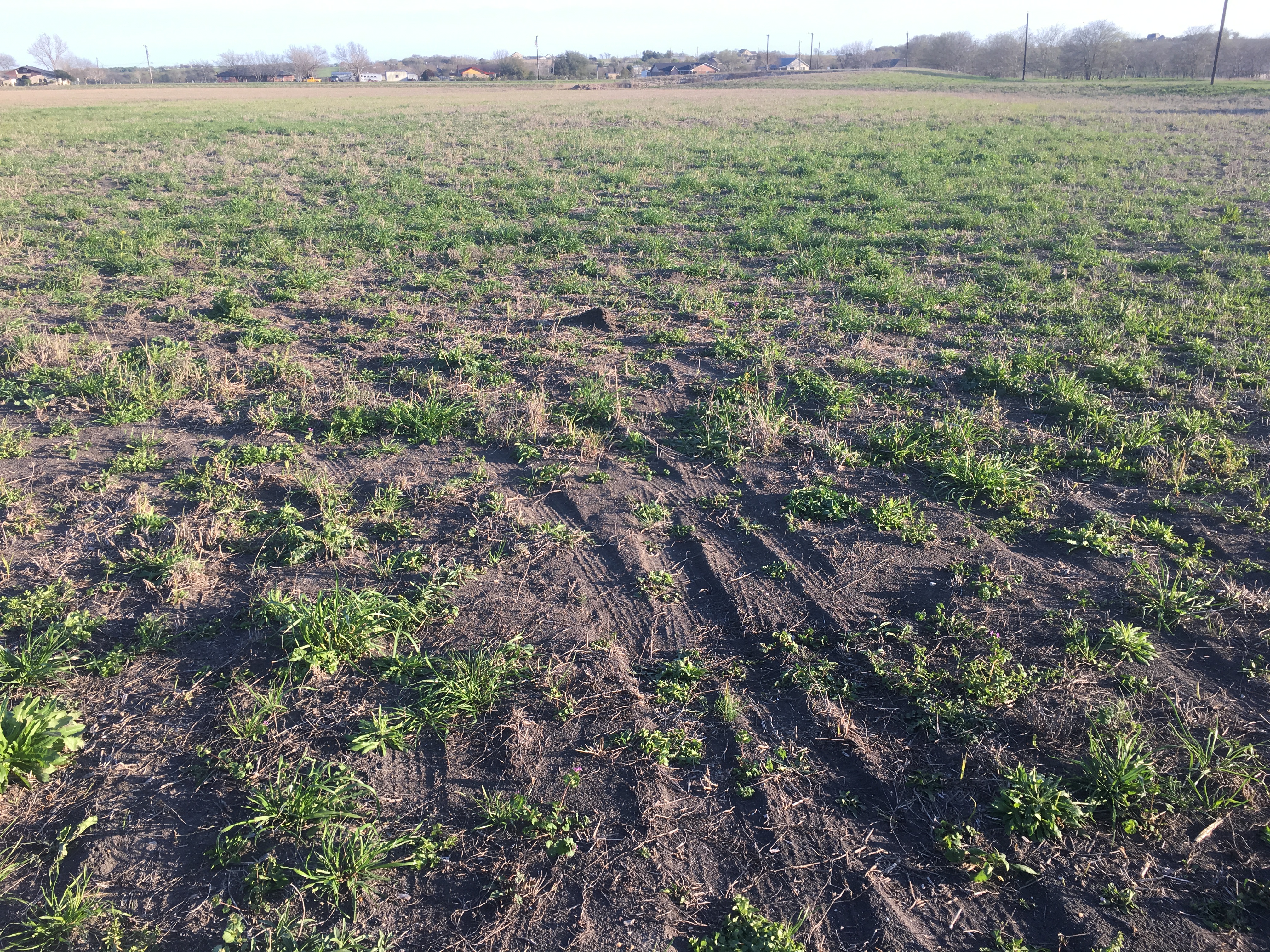 This is one month later. What a change!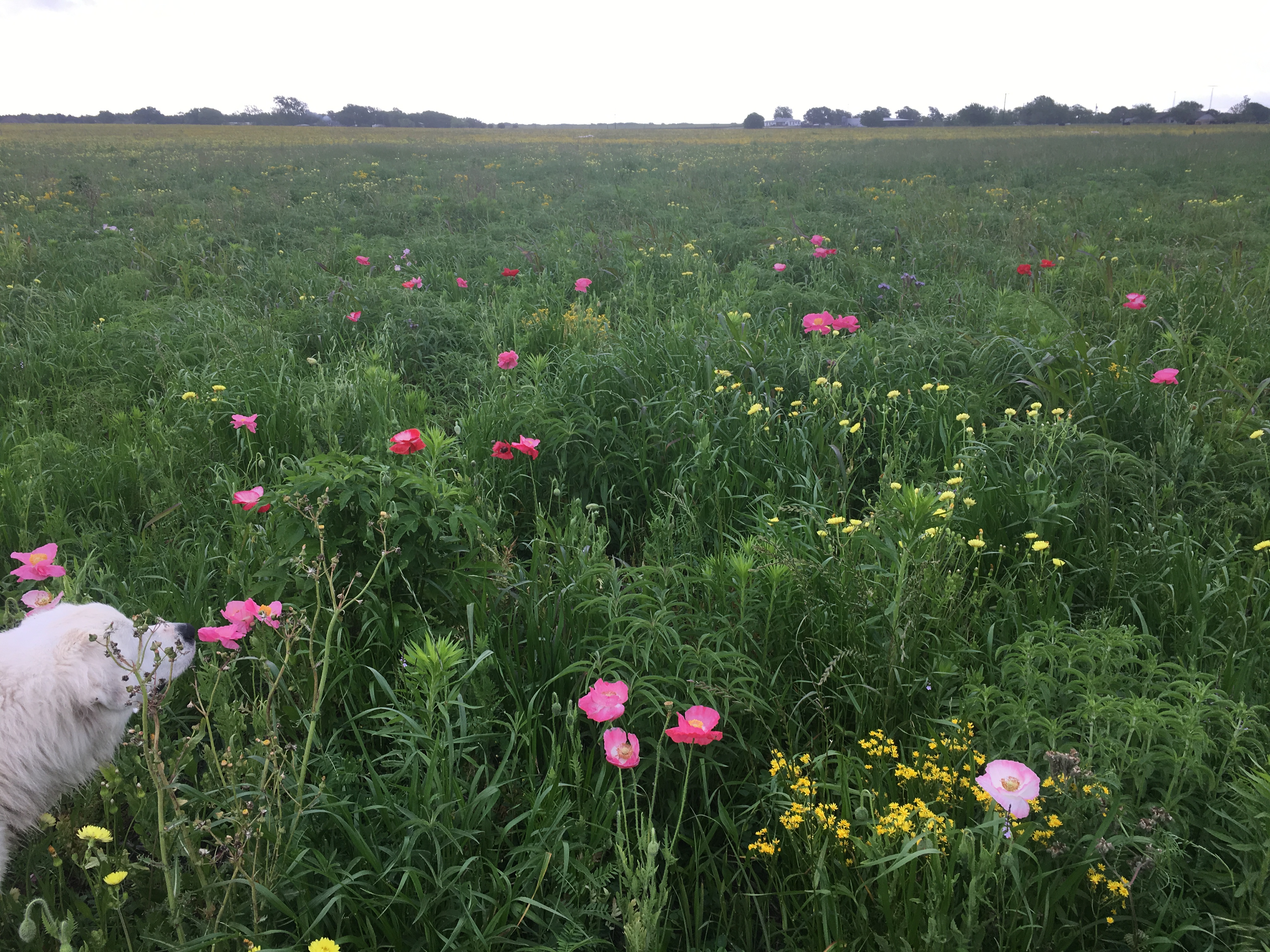 The following photos are just a few varieties growing this last month in the pollinator field. Ahh, the sweet days of Spring!
Hairy Vetch: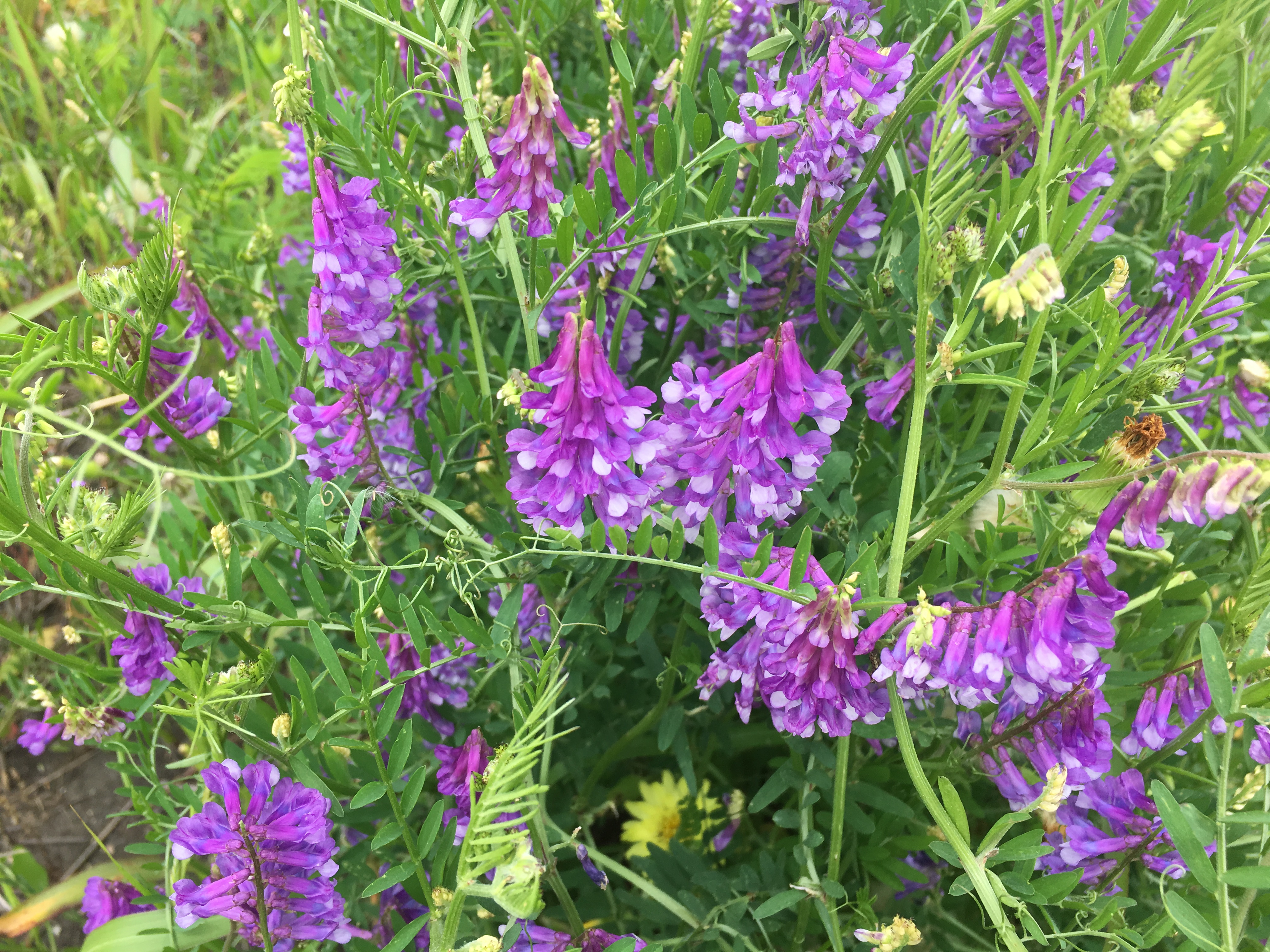 Lemon Bee Balm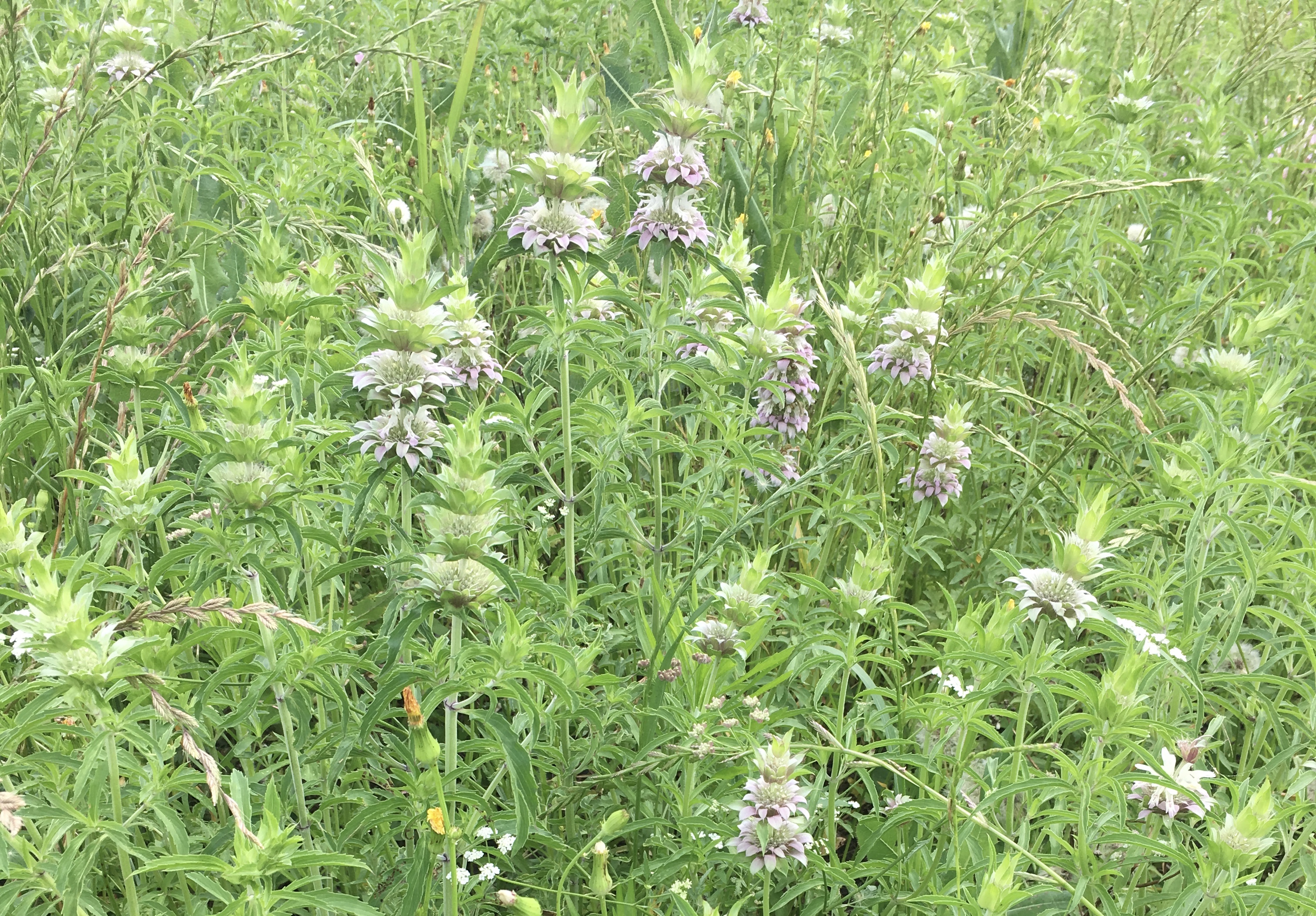 Baby Blue Eyes and Henbit
Rare white bluebonnet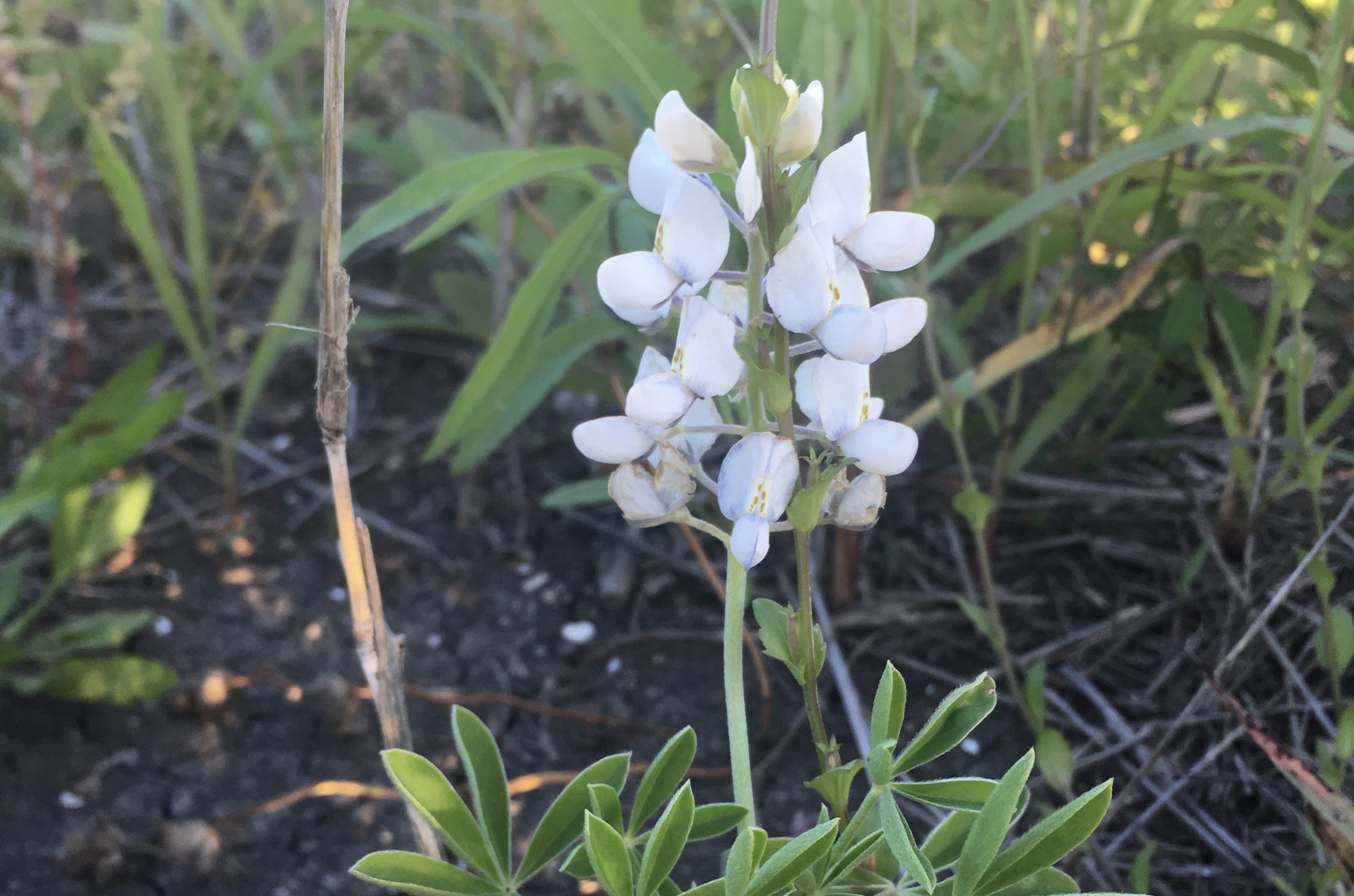 Rocket Larkspur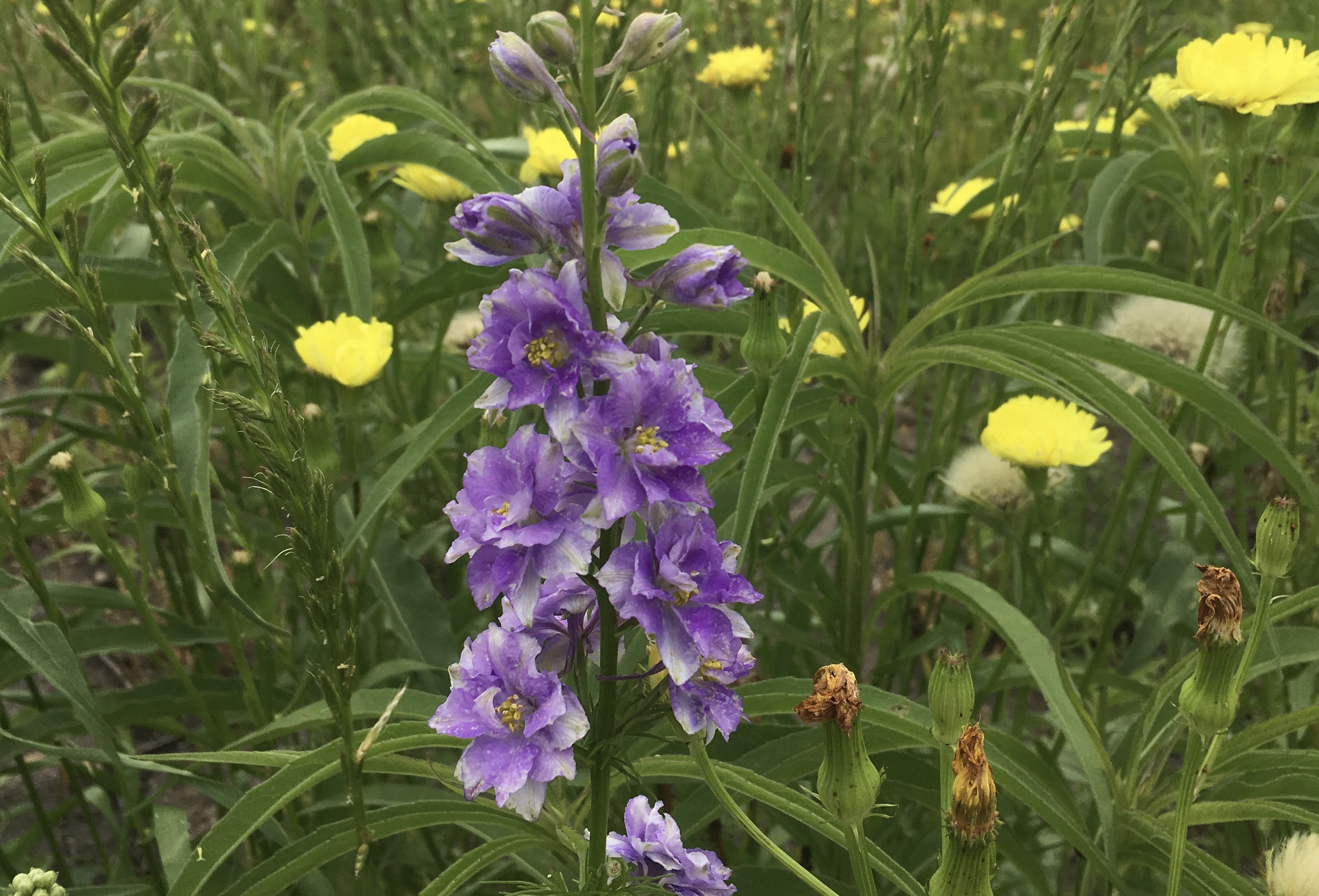 Stumped?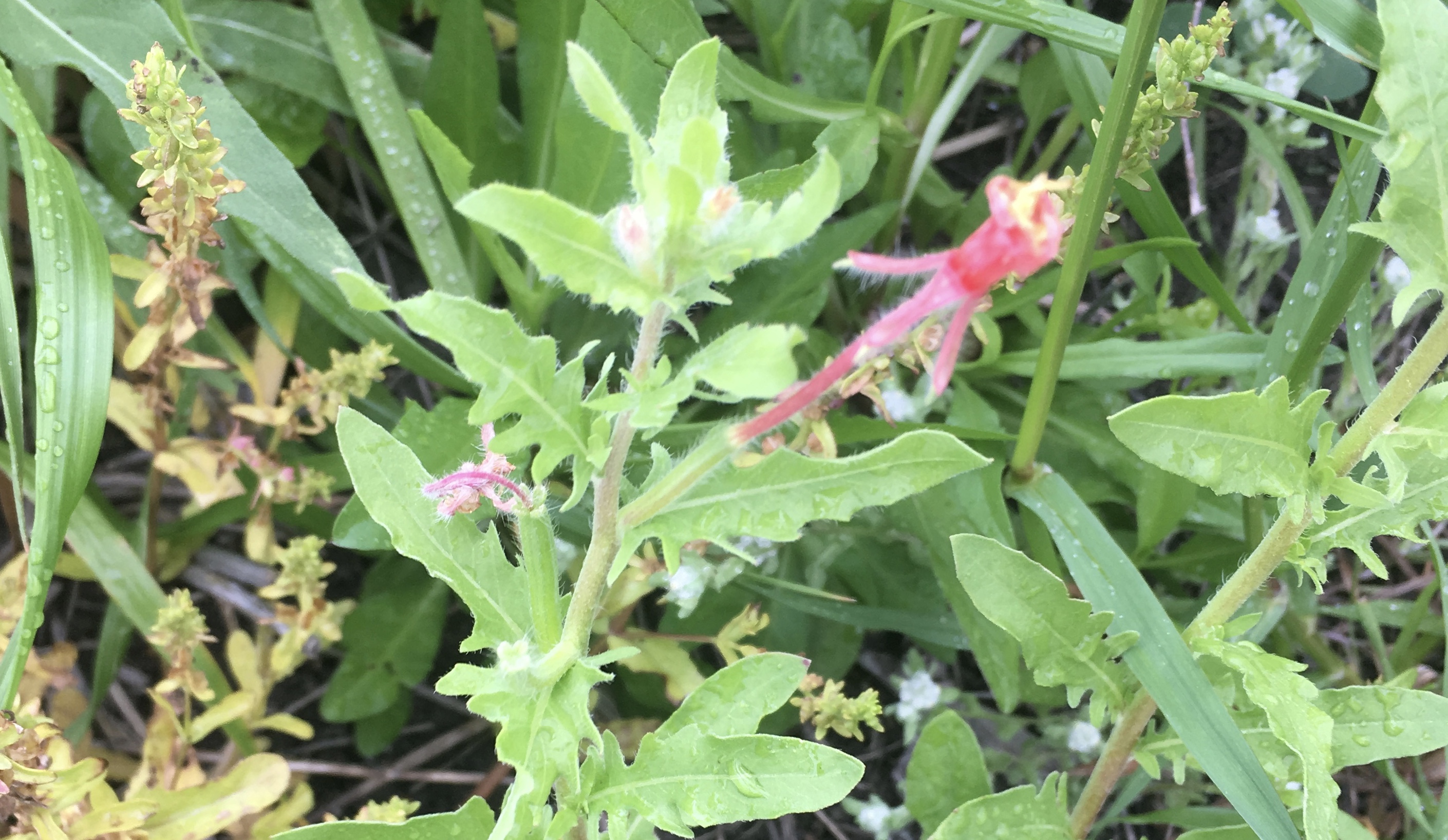 Texas Vervain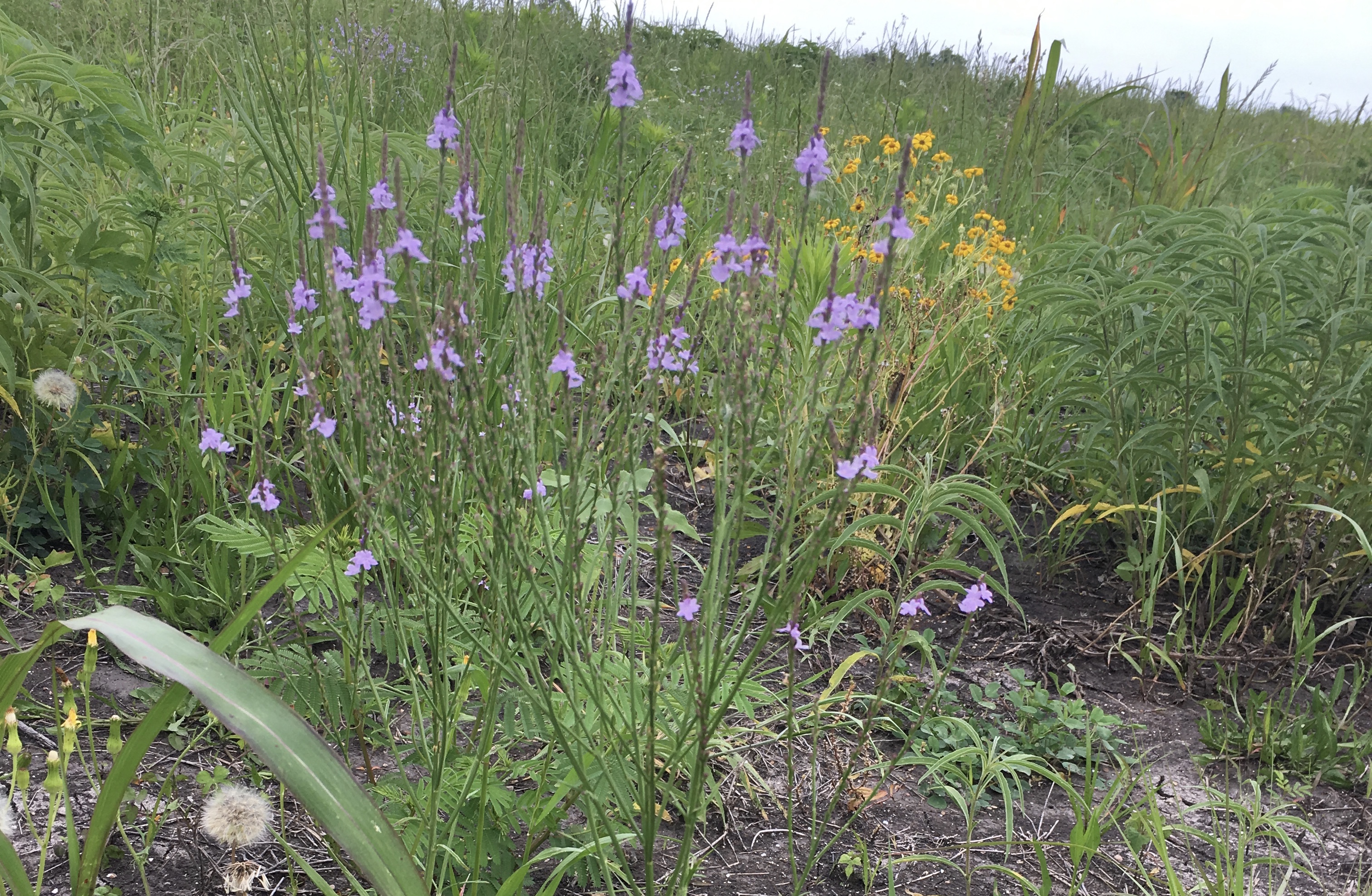 Indian Blanket. Do you see the bees on the flowers?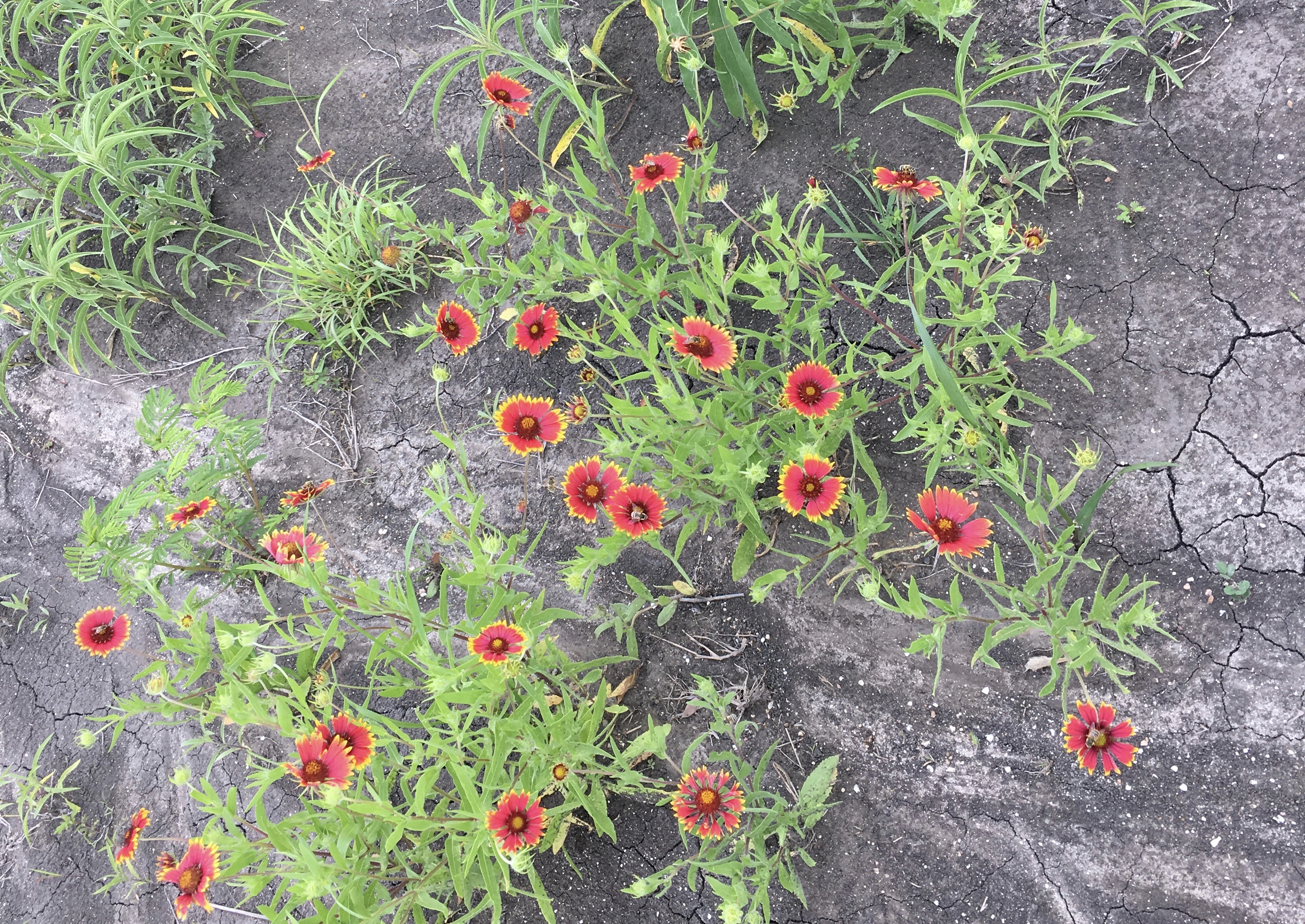 Moss Verbena
Indian Paint Brush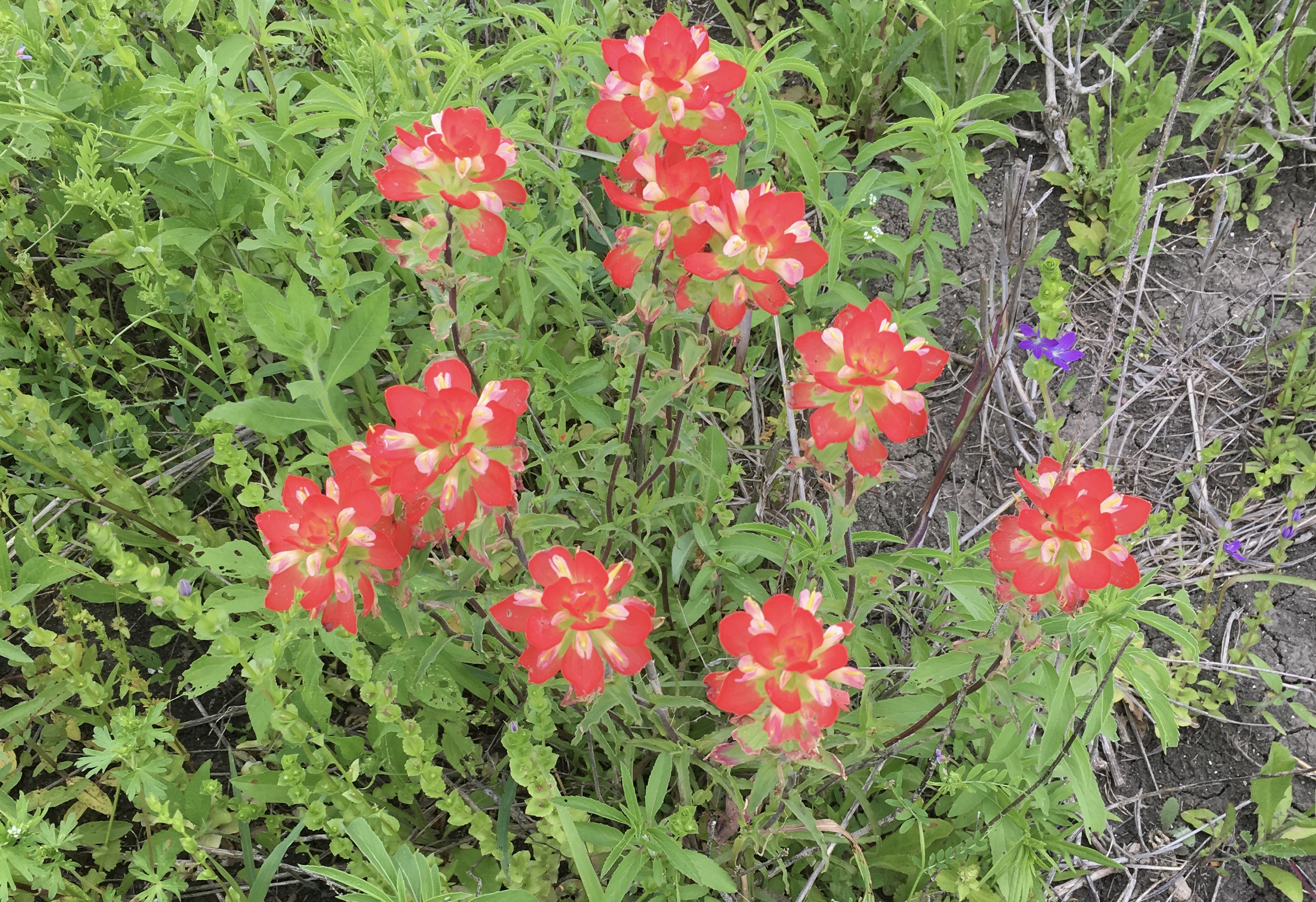 Blue Eyed Bermuda grass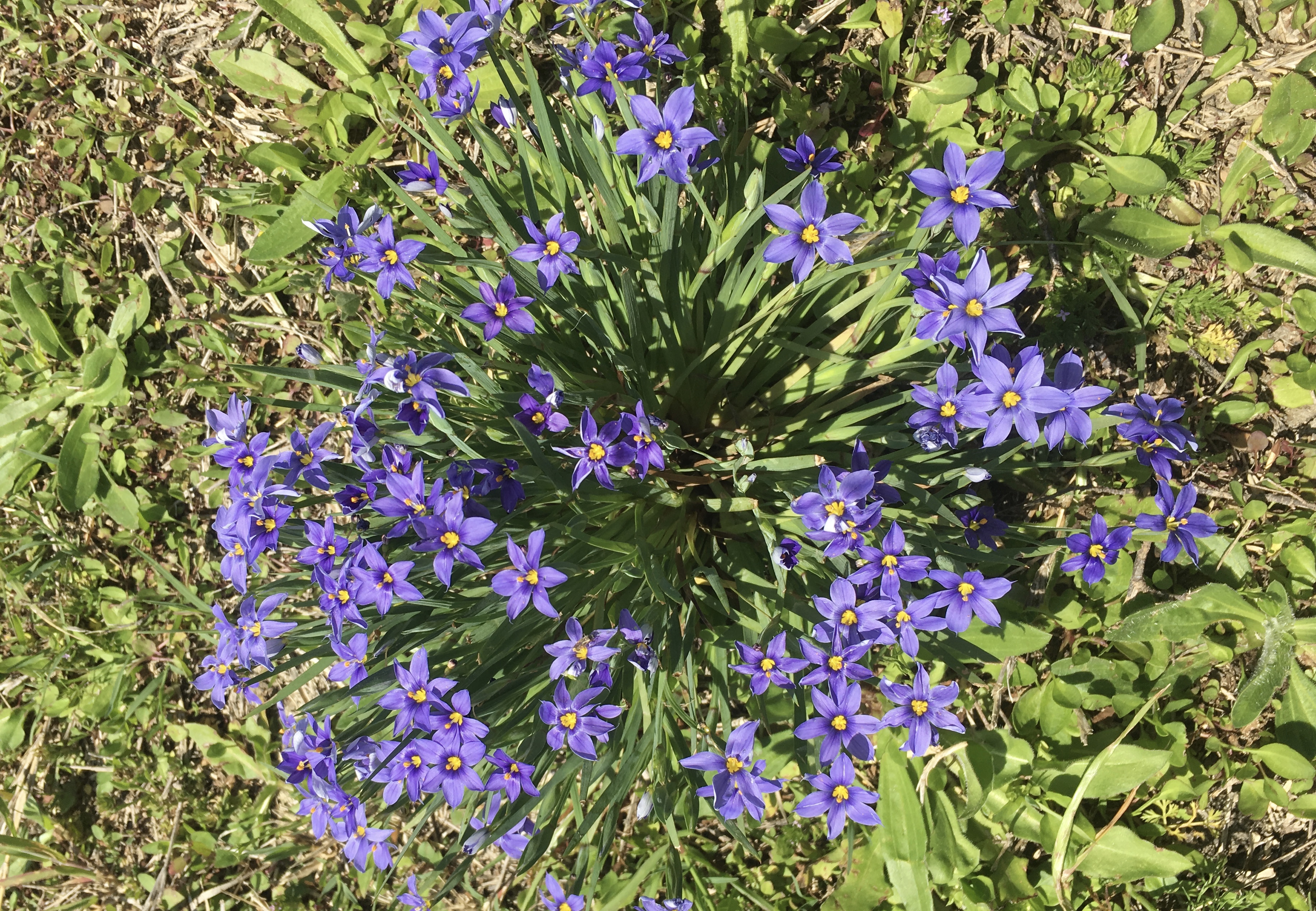 Blue Bonnets and Vervain?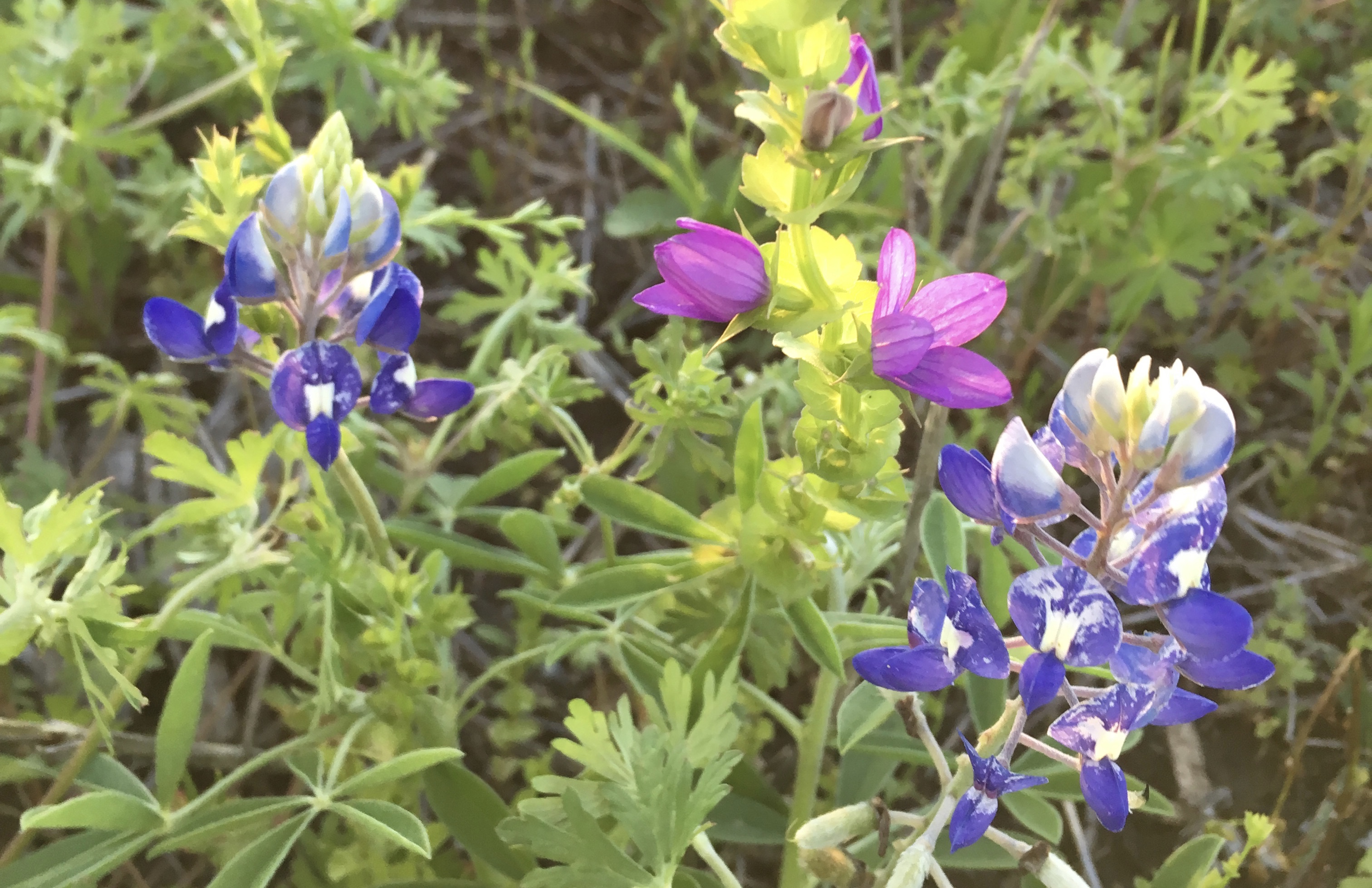 More Henbit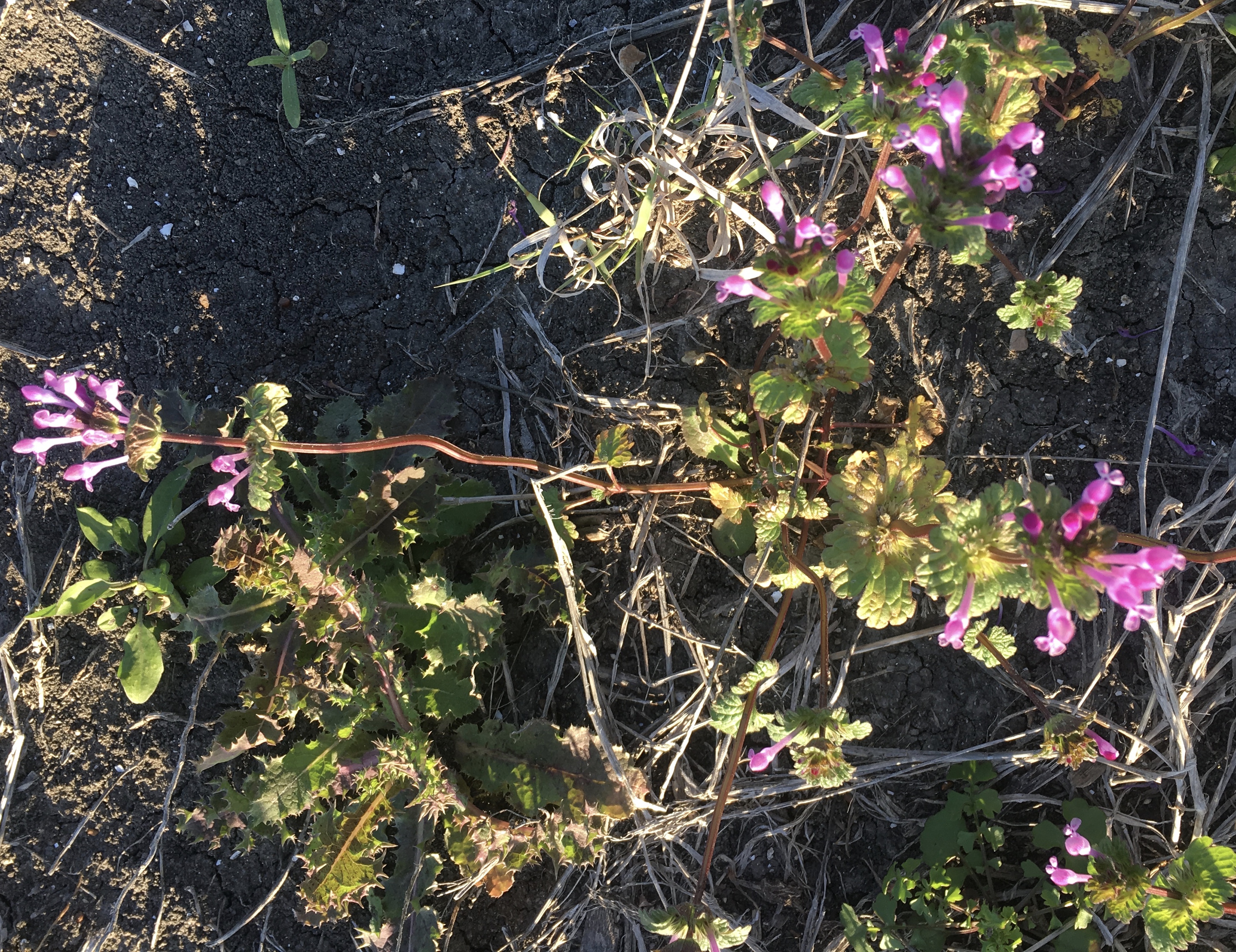 Cornflower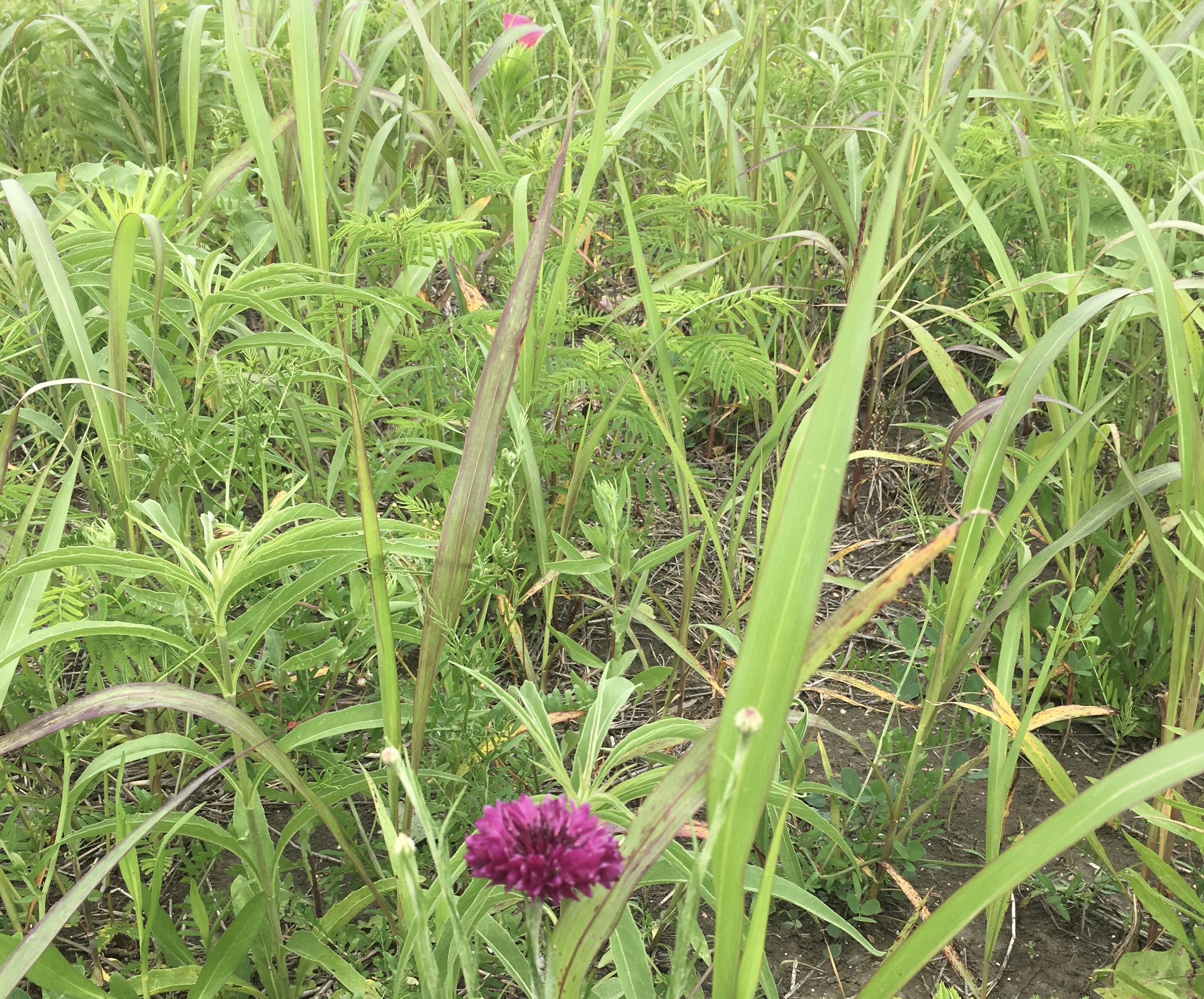 Cornflower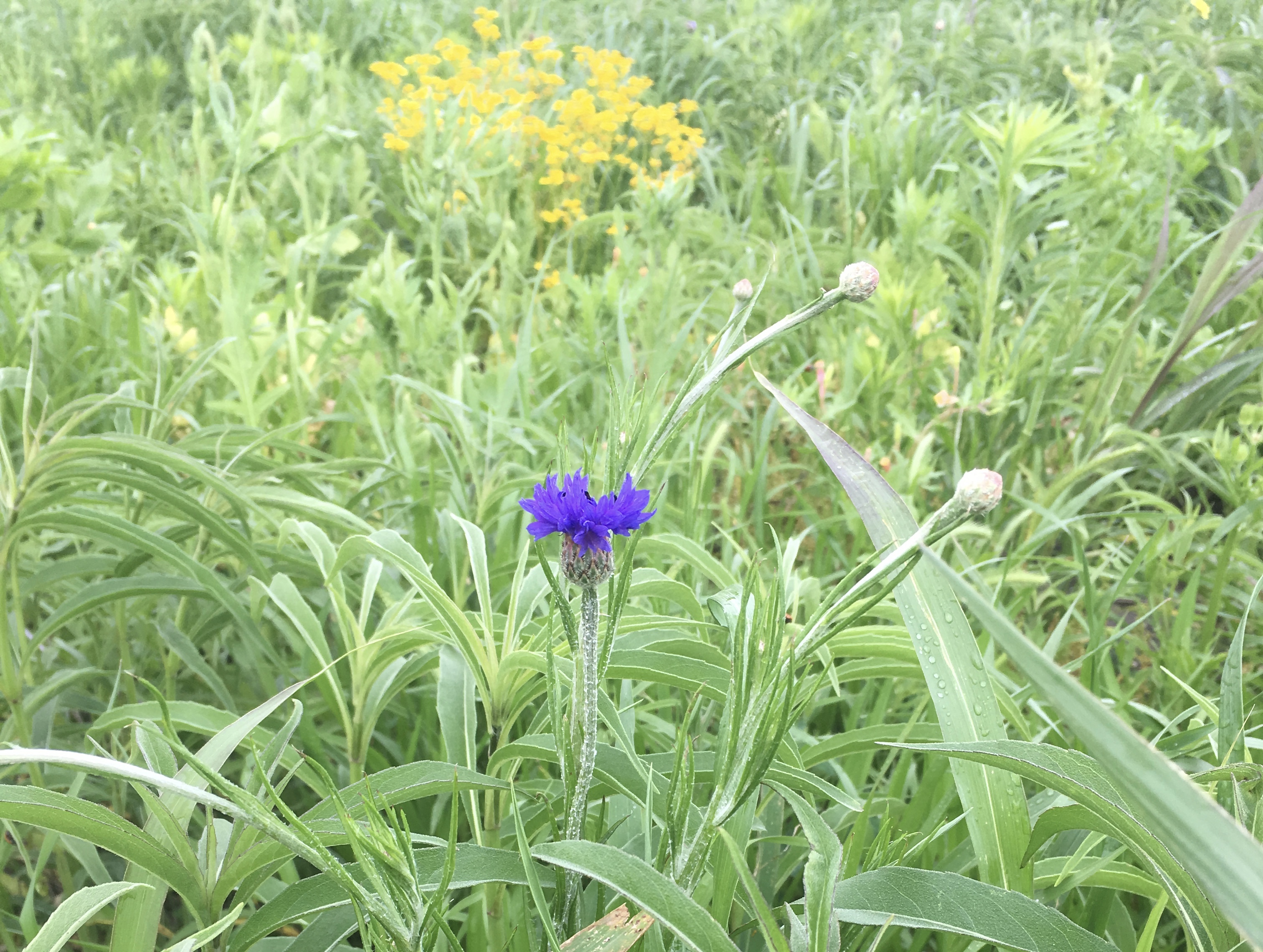 Bahia Pedata and Purple Tansy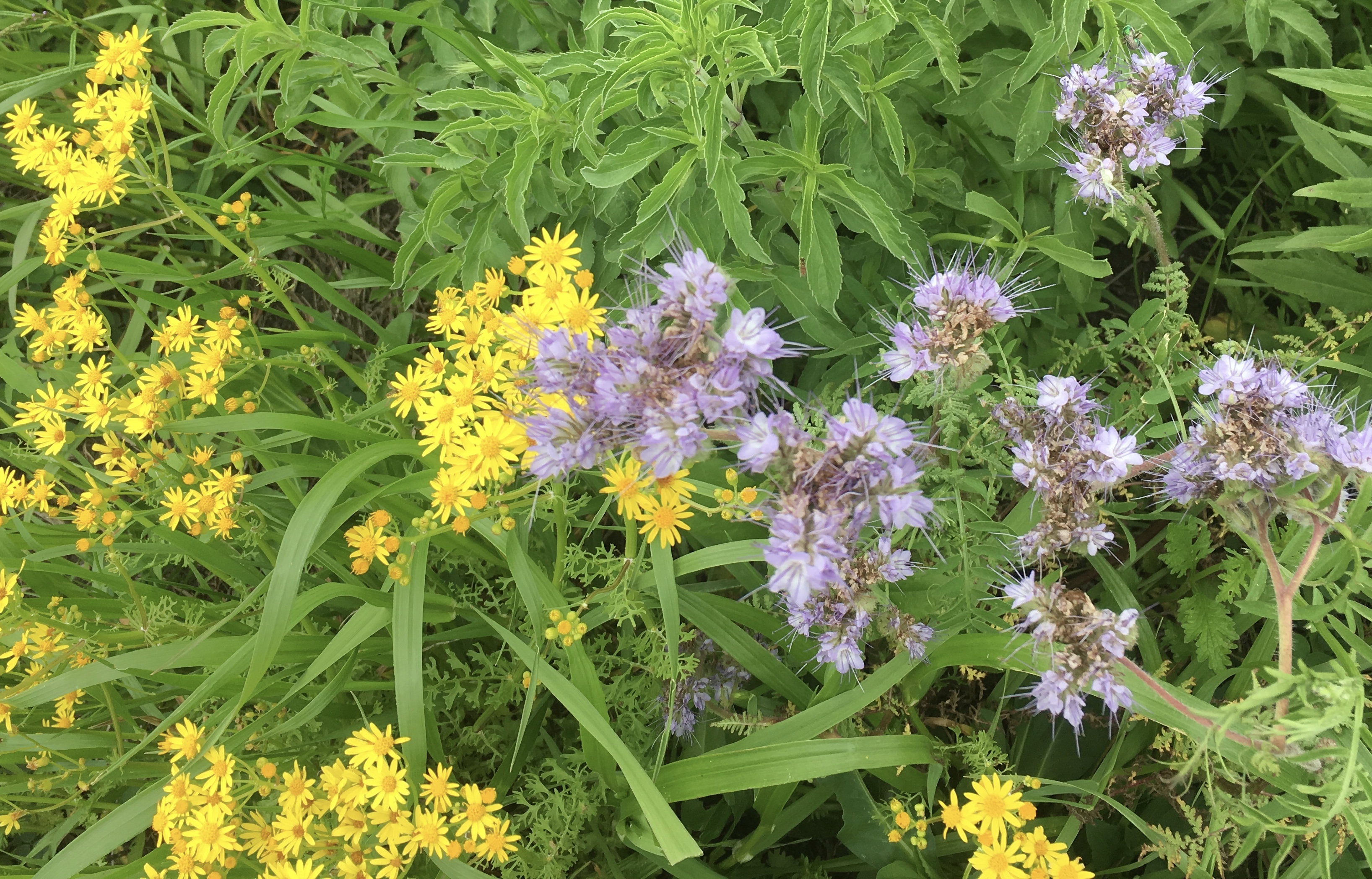 To the casual observer driving by at 70 mph the field looks like a bunch of weeds. Slow down, drink in the sun, breathe in the fresh air and really look around and you will see beauty growing in unexpected places. Stop keeping that meticulous yard. Allow the bees, butterflies, dragonflies, moths and beetles to dance in the fields among the flowers as God intended.  Relax, let your weeds grow. 
| | |
| --- | --- |
| Posted on March 6, 2019 at 12:20 AM | |
Fox 44's Anna Thrash came out in the blustery, below freezing temperatures to talk with Andrew about the cold. It will air tonight at 5:30 and 9:00.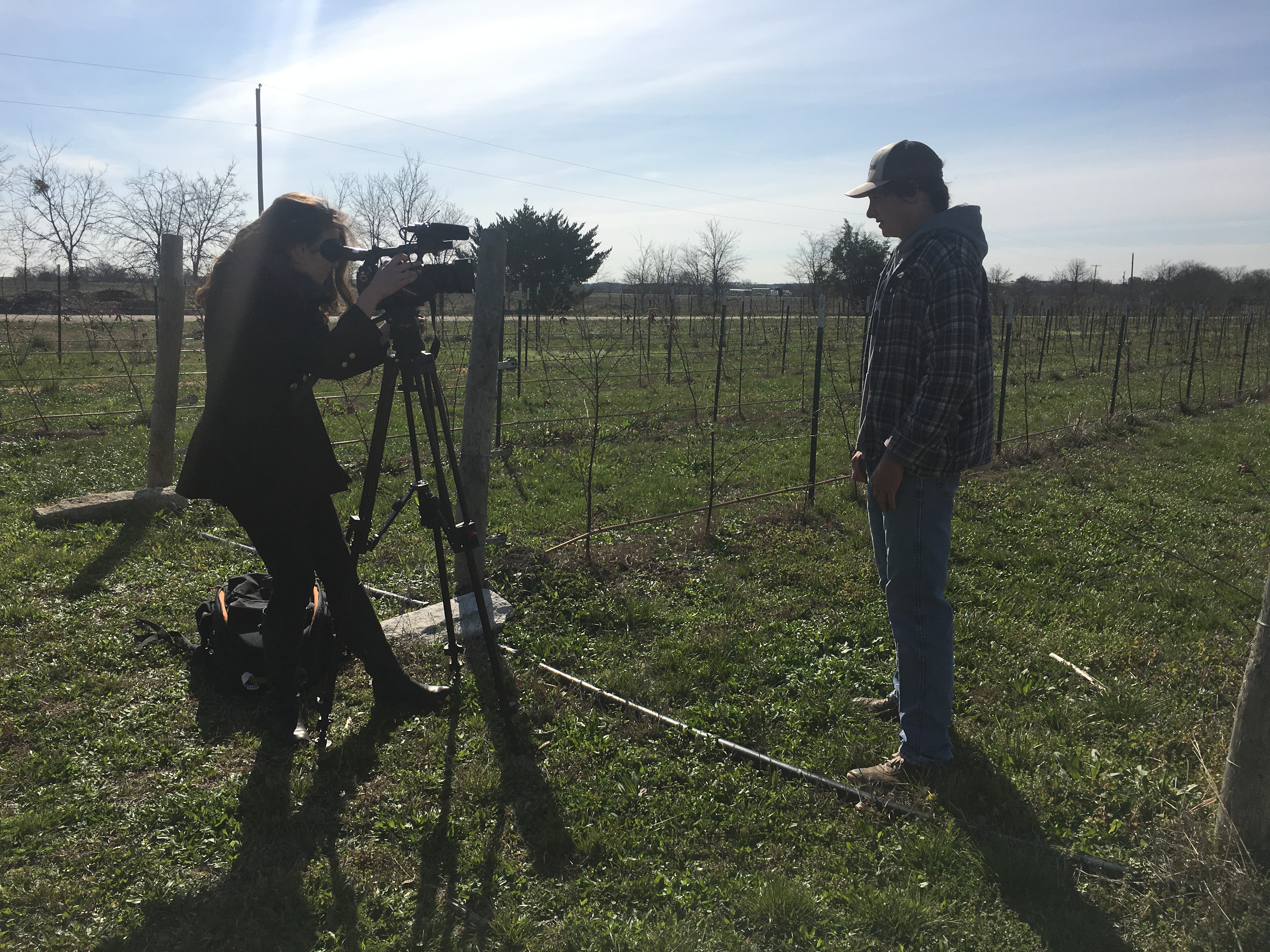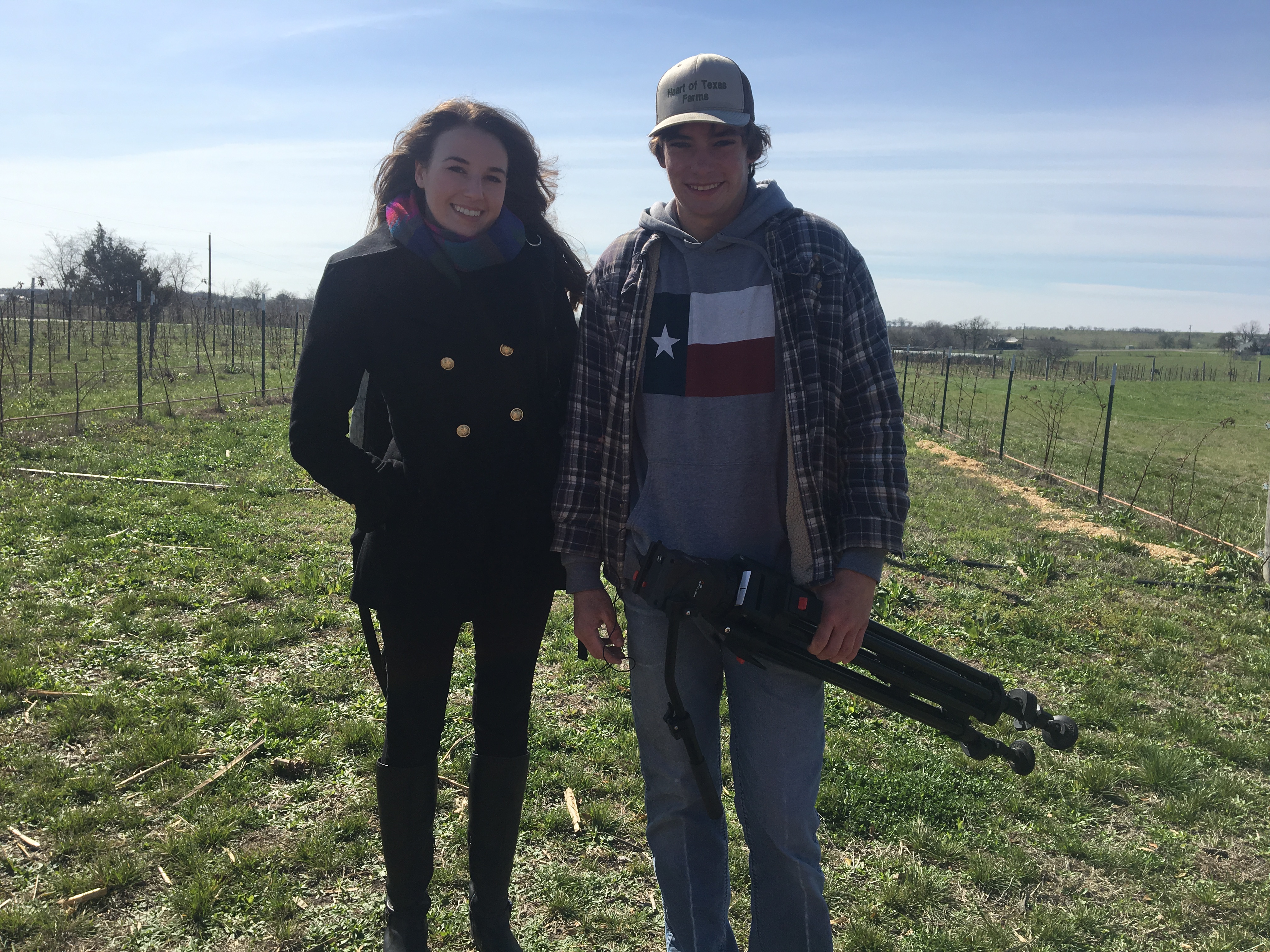 | | |
| --- | --- |
| Posted on February 5, 2019 at 10:30 AM | |
Over the last 4 years, starting when Andrew was 14, he has buillt 20+ mobile coops from chicken scratch: small coops, medium coops & large coops. Some were rented out as "rent-a-coop", one mid-sized coop was destroyed in a wind storm and now the remaining unsold coops have been repurposed for housing bunnies and various other birds.
One larger mobile coop affectionally known as the Gypsy Caravan is Andrew's first Clucker Upper! He has taken his building skills to re-building a mess of a coop. The resale value was practically zero. His three options were give it away, burn it or re-build it. The shanty already had a nice open floor plan, but walls were knocked down and rebuilt, doors replaced, framed foundation fixed,  wood floors installed, new temporary windows installed for Generation Z chicks arriving next week, and finally a fresh coat of paint! No shiplap was discovered but the wide splinter inducing plywood panels have a certain rustic charm and we decided to reuse those.  Under consideration is a metal sign that says, "Today is a Good day for a Good EGG". Andrew stepped out of his comfort zone and went with a modern style ramp door. First to appeal to the next generation's taste while also doubling as a sturdy footing for 185 pound young man. 
Before Demo Day: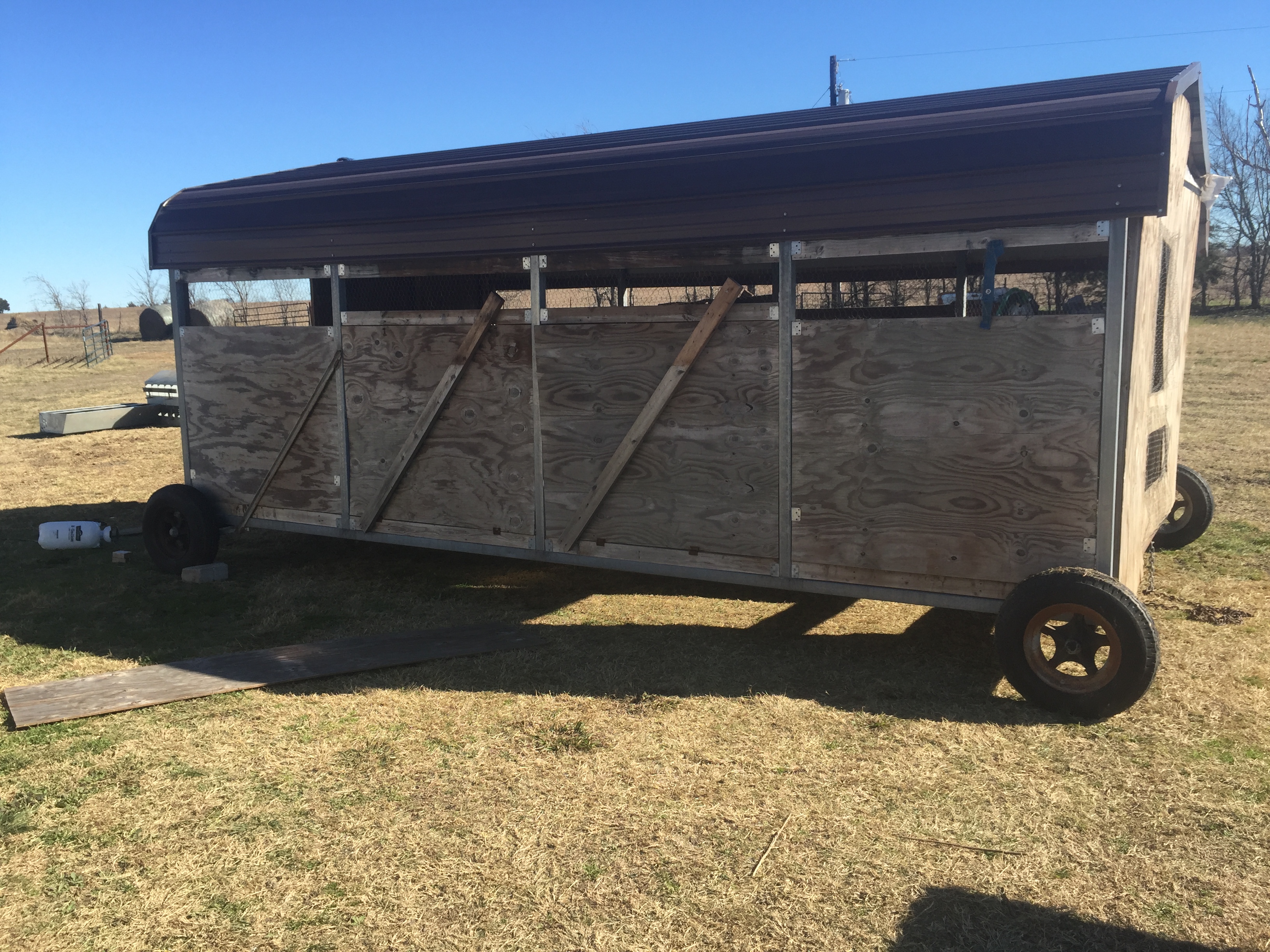 Rebuilt foundation for the floor. Notice the curved ramp door to the left. To be replaced with a "mid century modern" equivalent.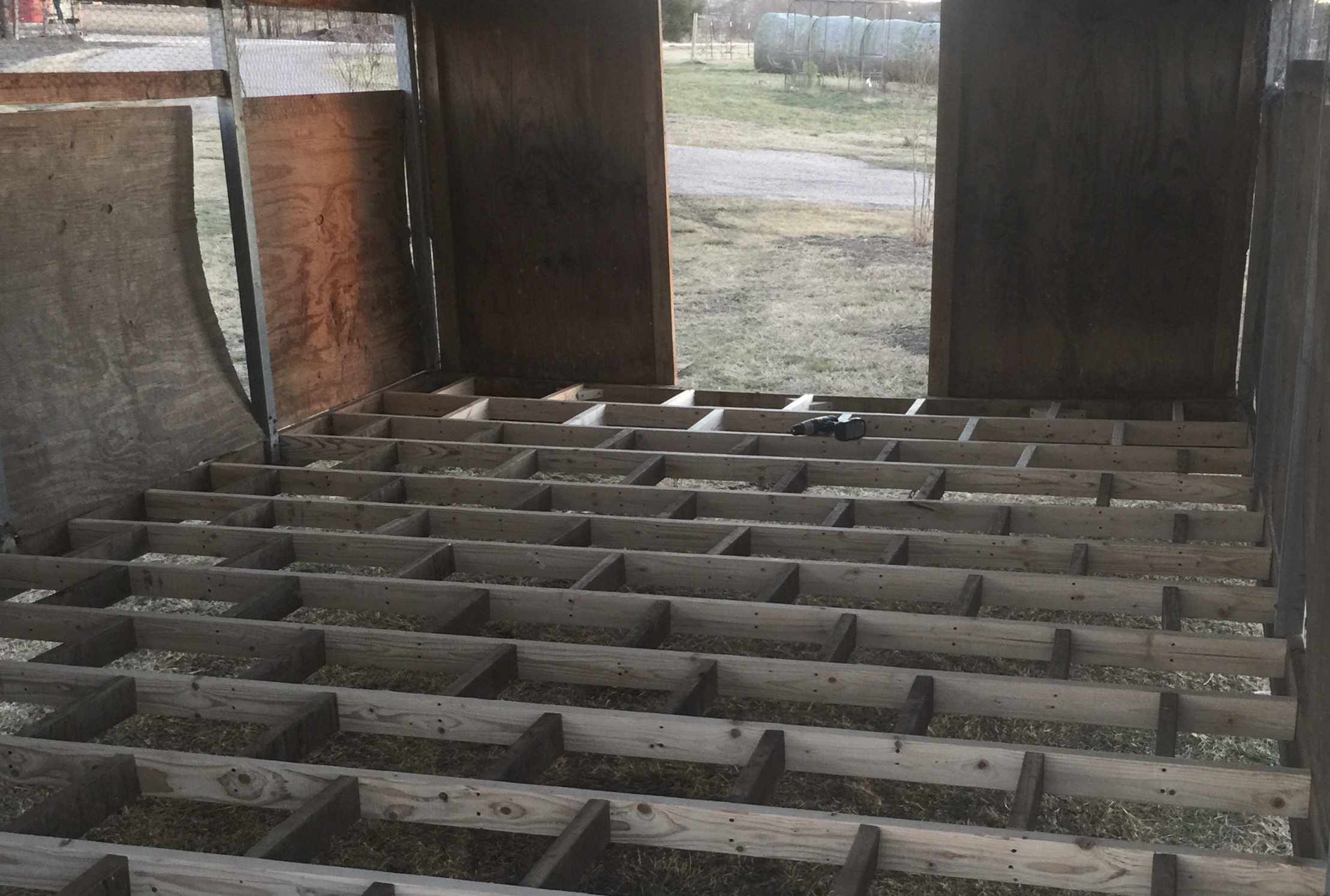 The Mid-Cen-Mod door and fresh temporary window coverings!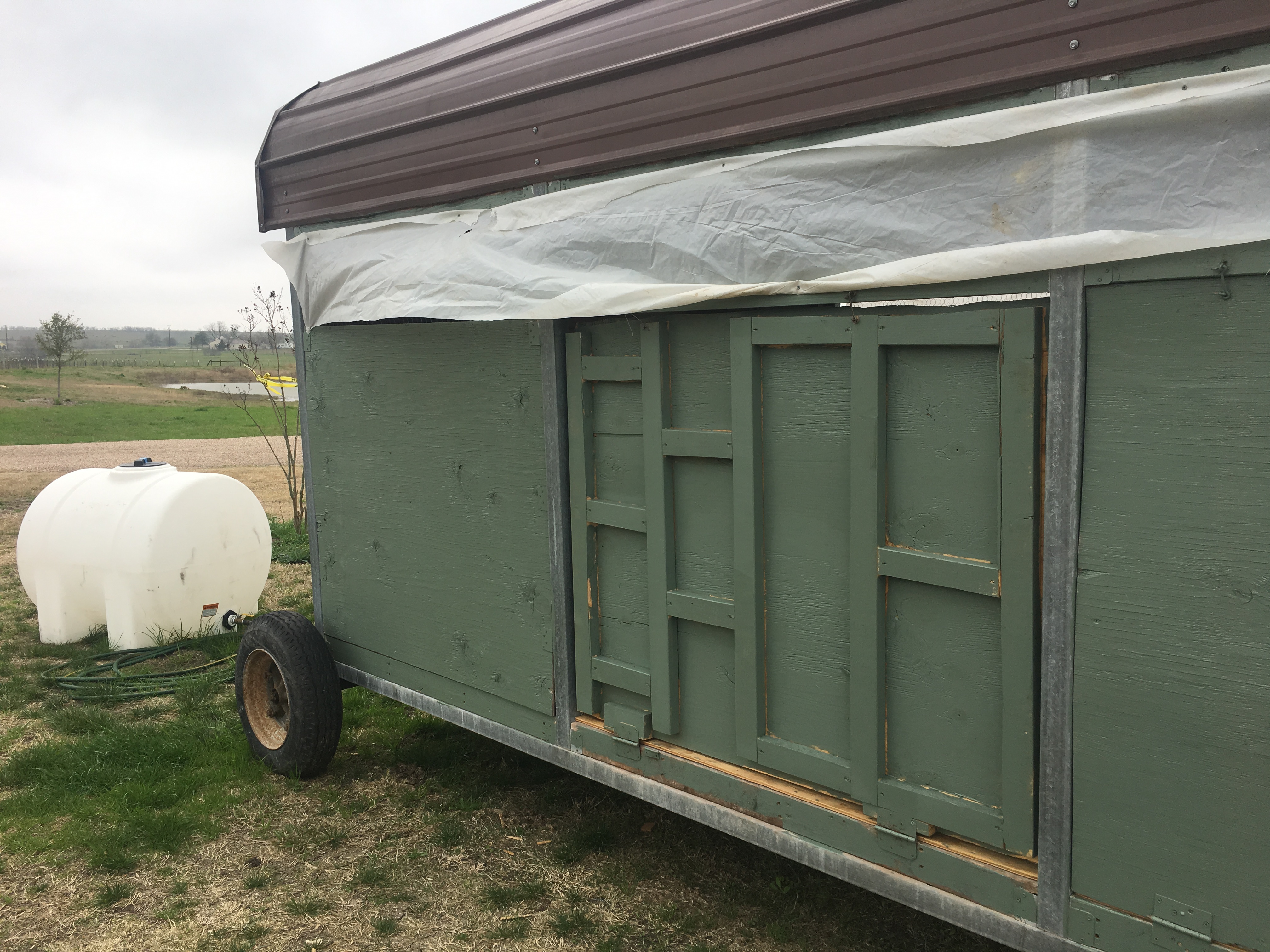 And the reveal of our very own Clucker Upper!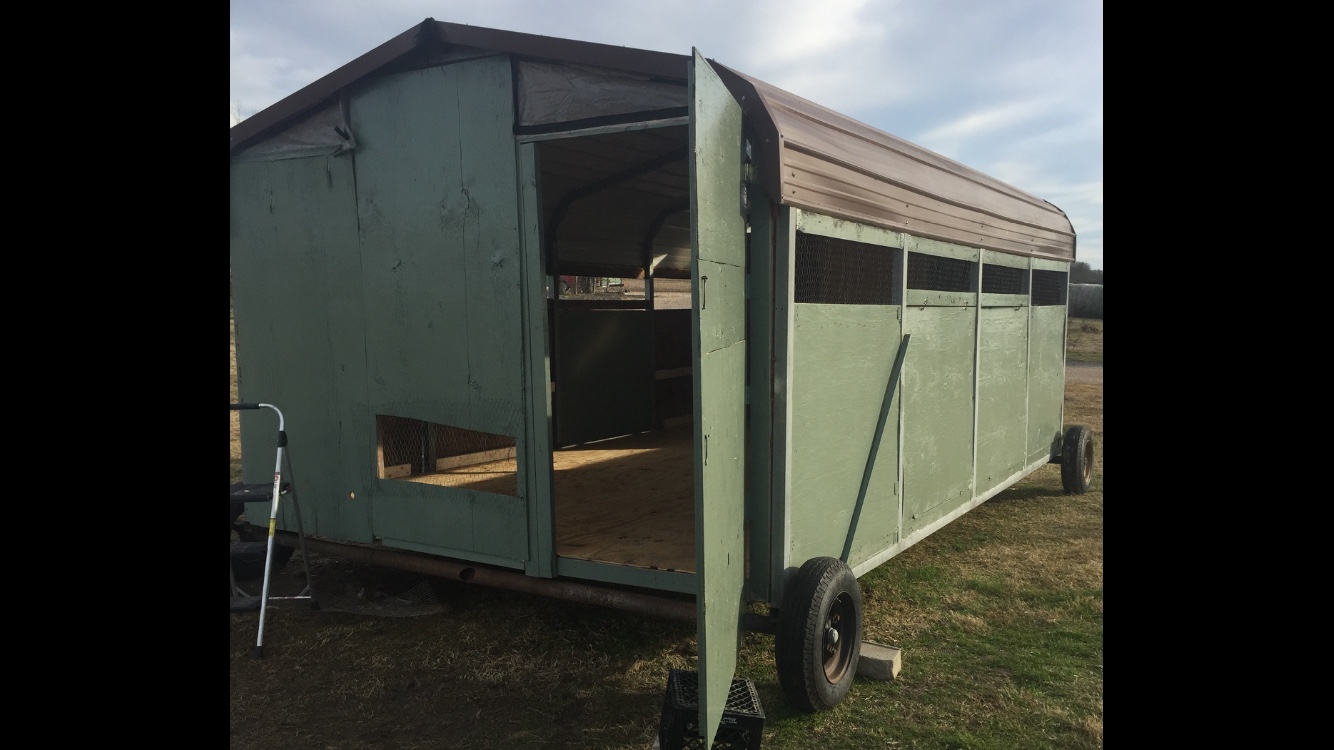 Stay tuned for the the "Cooler Downer" and "Greener Upper"!
| | |
| --- | --- |
| Posted on February 5, 2019 at 2:30 AM | |
It was reported that central Texas, in 2018, had set records in heat, cold, drought and most total rainfall. Overall it was a doozy of a year for the recordbooks and farmers.  We surmised that if we made it through the last 12 months we just might be ready to tackle practically anything. It was a tough year for the pasture greens. My daughter asked me what I was looking forward to most this next year. I said, "watching my grass grow".
Andrew has finished building 2 more large mobile coops for his chickens. He is anxiously awaiting the arrival of 1500 day old chicks in a few days. Our mailman asked what happened to our "greenhouses". The coops were built in front of the barn for all passerbyers to see and finally moved to the backside of the property. It makes me happy that we are not the smell of the town. Locals apparently think we are raising plants in the coops. The layer hens don't have that "farm" smell and I attest that to frequent movement of the coops across the grass. I'm glad we have them fooled. Little do they know there is a large soiree of feathered friends clucking about.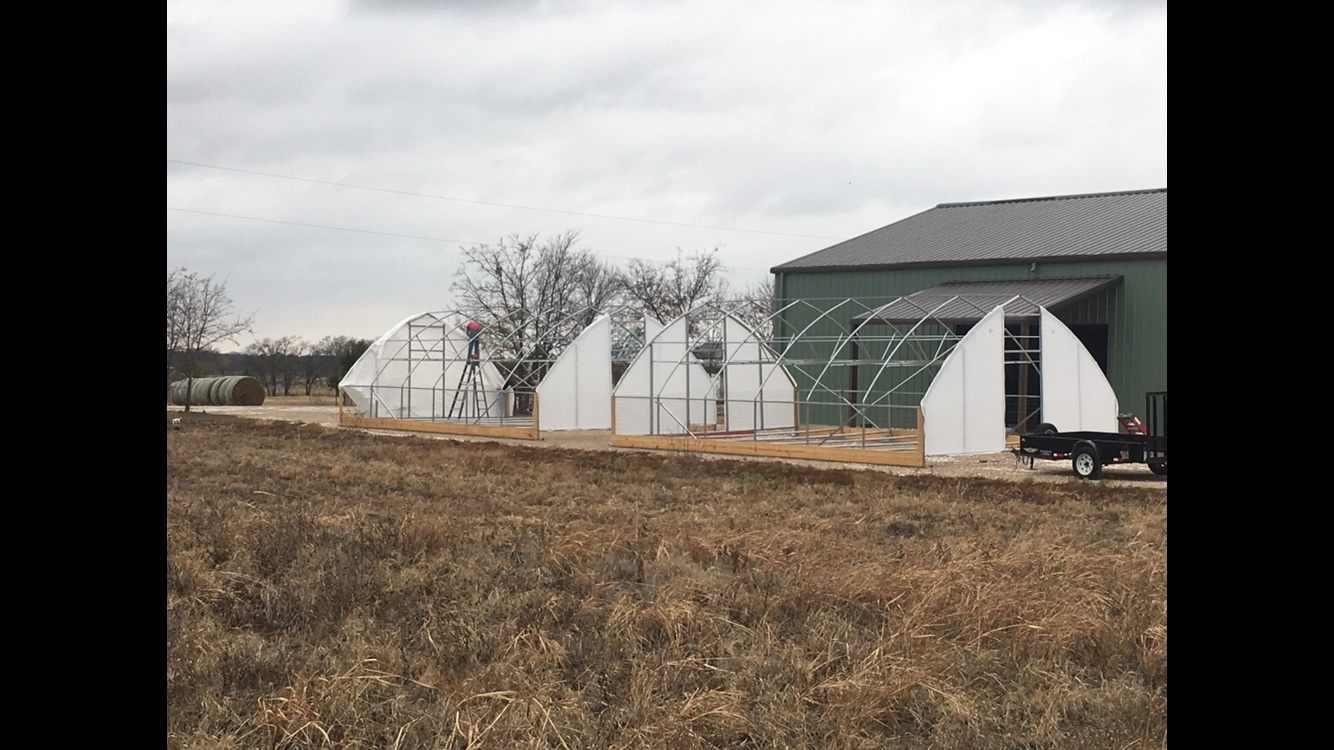 Next on our list is to build out a cooler trailer. I recently aquired a large cargo trailer, painted it to match our barn and Andrew and his dad are working feverishly to finish the interior. With the help of a Coolbot, designed by a farmer, we are able to cool a space as low as 35 degrees with a window unit air conditioner. We expect the 20X7 foot trailer, in total, to cost about 6500 dollars once finished. I like the fact that the cooler trailer is not a permanent structure inside the interior of our barn and also costs much less than an interior build. You can check out www.storeitcold.com for instructions on building your own walk-in cooler.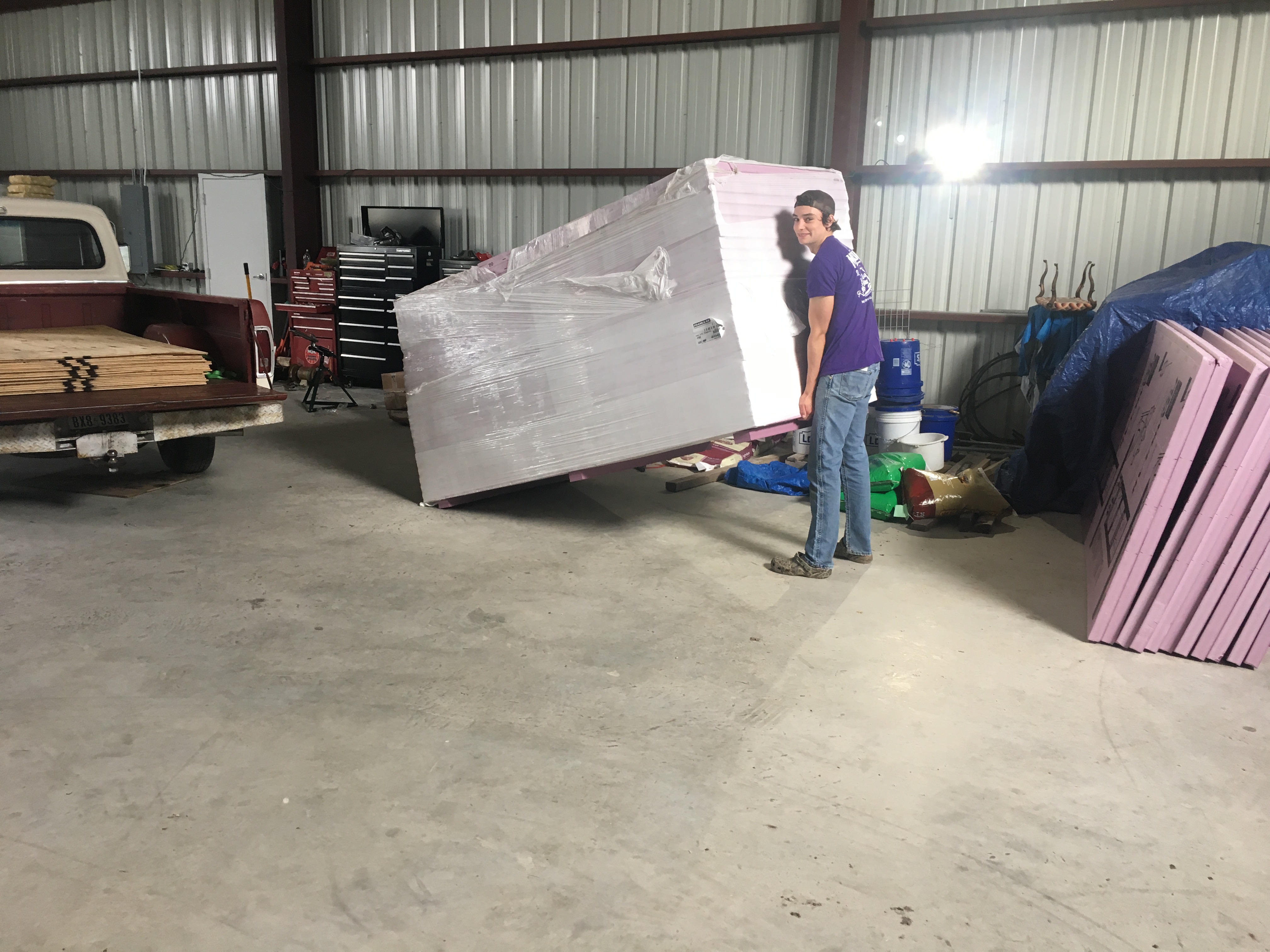 | | |
| --- | --- |
| Posted on August 28, 2018 at 6:00 PM | |
My dad has aptly nicknamed Andrew "Dark Cloud". In DC's word's, "it's going to die, it's going to break, it's not going to work."
DC has been telling me all summer the apple tree planted last fall is going to die. It finally gave up this week. 
We have had the driest summer on record. So far 9 inches of rain, 22 inches is the norm. The hay produced off the farm this year was less than a bale per acre. We probably will not get a second cutting either. I was hoping for 3 bales per acre produced this season. I purchased bales of corn and milo and have been feeding the cows corn since early August.   The cows have decided they like the corn.  After a few weeks I put out regular hay and they turned up their noses and went back to the corn. Which is okay? Corn bales are cheaper but they go through them faster so in the end the cost is probably about the same. Next week I'm going to plant turnips for the cows and hope for some rain. The turnips should be ready in 45-60 days and have a high protein content. Today I have been out working the proposed turnip site and I came in brown from the dust. Should have worn a dust mask.  
I turned over the shredding duties to Mark because there is an area in the field that requires the expertise of someone with a higher pay grade. Dark Cloud was watching Dad on the tractor shred a tricky spot in the field and said, "it's going to break". At least I was off shredding duties until the shredder was fixed.
In March I planted a native seed mix in the pasture and have Bundleflower and sunflowers from that mix growing abundantly.  The Sideoats are showing, but not as plentiful.  Johnson grass (not part of the mix) is also growing well and I have to lop the heads off every couple of weeks. Johnson grass can be a good/bad thing. Depends on how you manage your herd. First, it can takeover a field in no time. The seeds can be viable in the soil for 10+ years. Second, it can harm your cattle if not grazed properly because of a build up of prussic acid.  But the good thing is it grows like a weed, because it is a weed, and is good fodder for cattle. I am trying to get rid of the Johnson grass so that it will not overtake my native mix without using chemicals so that requires cutting the seed heads every few weeks. 
This past week my husband and I tried 9 different ways to put a 20 by 200 foot tarp over some milo bales. Andrew was right again, "it's not going to work". I know those farmers on the high plains can do it, why can't I? Do I really need this tarp? It probably won't rain anyway. I decided the tarp was better off secured in the barn than flying high over the field like a deranged UFO.
Andrew had come running in the house today complaining the chickens had pecked a scab on his leg and was bleed profusely. After he was all cleaned up I put a bacon bandaid on his leg. He said, "don't we have anything else? They'll peck at that even more."  
The blood thirsty chickens have plucked their white tail feathers, sown a surrender flag and are flying it above the coop. I know they wish for rain too.
| | |
| --- | --- |
| Posted on June 18, 2018 at 7:35 PM | |
It is the second year since Andrew planted the tranplanted berry sticks from Arkansas. They truly were sticks and it is amazing they have grown even with our current drought. The summer has been dry and the rain still has not come for weeks. My cows are fence jumping to greener pastures and always keeping me on my toes. One area of cross fencing is in shambles and they alway seems to know when I have the gate open. They like to stand at the open gate and watch the cars whiz by.  My hay guy has been telling me he will bale the hay next week. That was 8 or so weeks ago. So I have hired another hay guy and he tells me next week. I just will have to keep buying feed until some farmer is available to bale.  
Andrew decided to put our U-Pick sign out mid June and not advertise. I slightly regret this as not many have stopped. He did not want to disappoint pickers as this is only the second year of production and to berries are not at their full potentional, but we still have berries coming out everyday and we pick every morning and every night. My back is sore and I have purple stained fingers. The chickens that roam in the blackberries are depositing purple poop on my driveway. We call this "a drive-by fruiting".  All the dogs are enjoying the fruits too.  So come and pick and eat your fill. They are delicious!
The elusive Blue Bell wildflower showed up in our hay field. Good thing the farmer never came! These are normally only found in Washington County, home to the famous creamery Blue Bell.  I'll be roping off the entire area of Blue Bells. The seeds drop around September-October.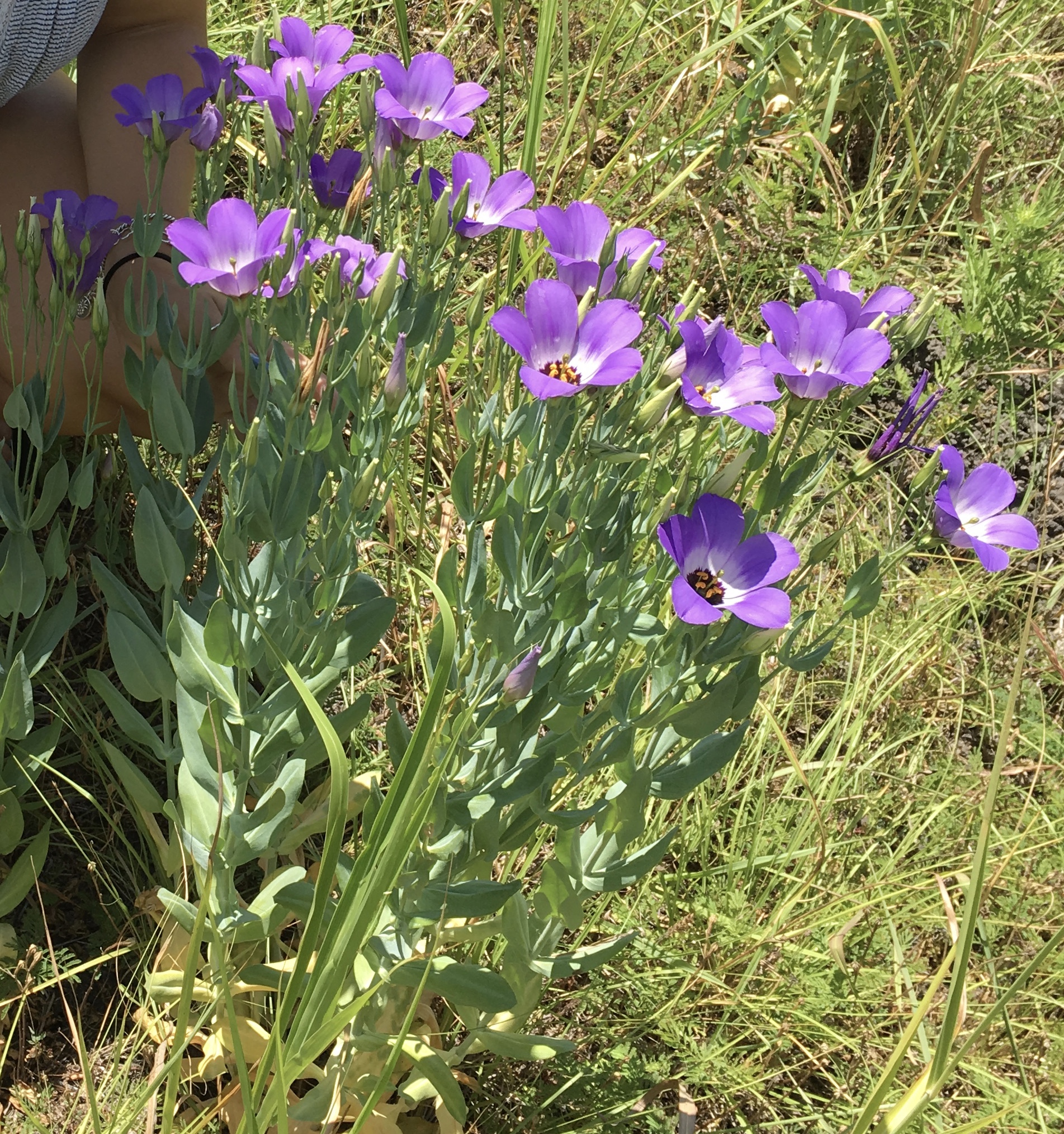 Another amazing wildflower found in the field is the American Basket Flower. It looks similar to a thistle, but without the prickly leaves.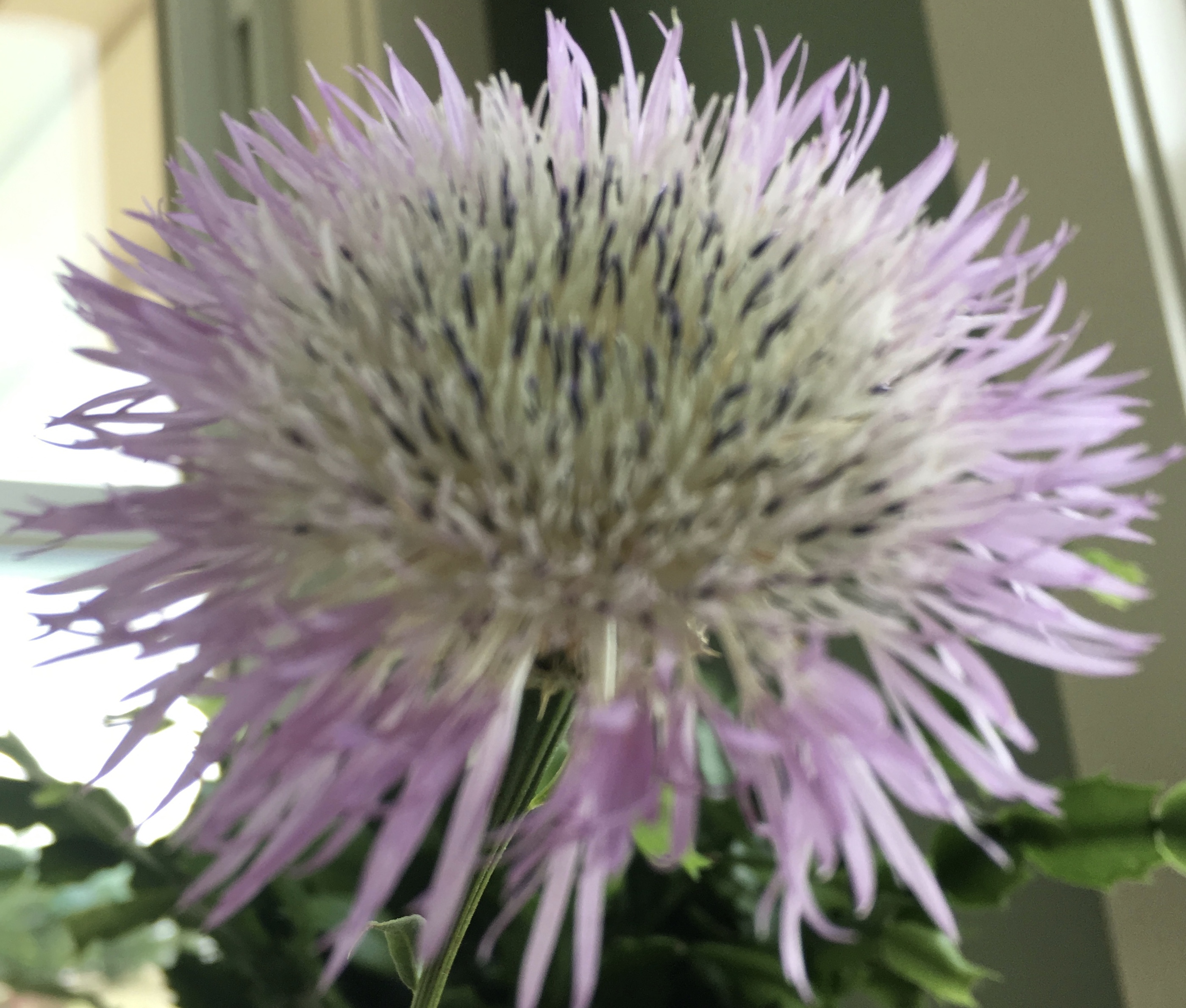 | | |
| --- | --- |
| Posted on May 2, 2018 at 1:25 PM | |
     Andrew proudly keeps reminding me that he will be 18 and an adult at the end of July. I had to laugh when he walked into Sims Plastic to buy irrigation supplies and was greeted with, "Hey, the kid is here!" All the employees came out of their respective positions to ask him how the blackberries were growing, and if he has graduated Homeschool High School yet. First rule of homeschoolers is you don't ask what year they are, but how old they are. The graduation question sent Andrew into a tailspin. He wasn't sure if I officially graduated him yet. I didn't realize this was complex. My response was, "You graduate when I get that Senior photo taken."
     Mrs. Lewis has been buying Andrew's eggs since he started selling at the Waco Downtown Farmers Market over 2 years ago. She emailed and was wondering if he would host a farm tour for her class. Of course! The 1st attempt the school bus broke down, the 2nd attempt the fields flooded as seen in the previous post and this 3rd attempt was forcasted for thunderstorms. The kids were absolutely darling. One was obviously never going to be a field hand as he protested the smell of the meat birds and held his shirt over his nose the first 15 minutes. Good thing for him we didn't make it to see the pig because of the lightning. One boy asked to hold Andrew's hand as they crossed the field. At the end I asked what their favorite thing was. One said, seeing the baby chicks inside the eggs, another said feeding rolls to the layer hens, another said Andrew was his favorite.